Amidst masses of anxious men stands a woman in a grey and pink headscarf, armed with a to-do-list doubling as a journalist's notepad, and a pink pen. This woman is 22-year-old Heba Afify and she is determined to document the voice of her people.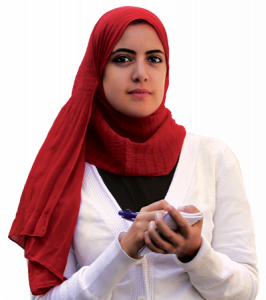 Afify is the charming protagonist of a documentary titled "Words of Witness." Part of the Human Rights Watch Film Festival, the 68-minute film by filmmaker Mai Iskander follows Heba Afify as she captures the stories of citizens during the Egyptian Revolution for Al-Masry Al-Youm, a daily independent newspaper.
What seemed at its conception to have been a documentary about the revolution and its turmoil, turned out to be a telling story about a woman and perhaps about women.
After interviewing half a dozen women journalists in Egypt, and moved by Heba Afify's "commitment to her work and her courage," Mai Iskander chose to follow Afify as she took to the streets, documenting the thoughts and emotions of Egyptian citizens during the revolution, after the ousting of then dictator Hosni Mubarak, and even up to the recent elections.
The final product, premiering in New York just a week after learning the outcome of Egypt's first presidential election post-revolution, gives a rare look at the emotional roll coaster that the people of Egypt went through during the revolution, from the excitement at its onset to the feelings of disillusionment and skepticism towards the previously revered army.
My take-away, however, was a broader glimpse of the challenges young women journalists face, and specifically the challenges Muslim women journalists, who are bound by societal, cultural, and familial norms, face as they confront these sorts of coming-of-age moments.
As Afify continues to venture out into the streets to cover the events unfolding around her, her mother constantly reminded her, "I know you are a journalist, but you're still a girl!" The back-and-forth tiffs between Afify and her mother reminded me of similar conversations unfolding in Muslim, Arab, and South Asian households around the world. Even for those of us who, as children of first-generation immigrants, we are displaced from the land of our mothers and fathers, at dinner tables, during after-work couch conversations, and amidst family discussions, we find ourselves never escaping the grasps of our culture.
In fact, throughout the documentary, it seems that the only place where the women in Afify's household are free to escape the clutches of cultural norms is in the virtual world. The documentary interestingly showed how, through social-media such as Twitter and Facebook, Afify and the other women in her family are allowed to "safely" (according to her mother's standards) enter and dominate what are commonly known as "men only spaces." In the virtual world, women, young and old, are free to leave political commentary and be outspoken participants and leaders in the revolution.
However, they are unapologetically forcing themselves into the real world too. At a time when change is so visibly in front of them, Afify and the other women journalists depicted in the film all realize that they, "can't abide by the rules of being a 'good Egyptian girl'" if they want to have a hand in the revolution. They all challenge the status quo at a significant time.
Something that stuck with me was the comments that director Mai Iskander made in the Q&A after the film was shown. When asked if she thought the film was more about women, or the revolution itself, she said that she didn't want to make a film focusing on women as victims. Instead, she feels stories about women don't necessarily need to focus on women's issues.
This was a story about life, revolution, change, turmoil, passion, journalism. These were the words of a witness, who also happened to be a Muslim woman. I wish there were more stories like these told.