With the summer Olympics fast approaching (and truly, what place says summer better than London), it was only natural that a bit of controversy would have to preface an event upon which the integrity of your otherwise boring country lies.
And who better to offer this controversy than Saudi Arabia?
Earlier this year, Human Rights Watch launched a campaign "Let Them Play" aimed to pressure the Kingdom into allowing female athletic participation in the upcoming Olympics. The campaign led to a bit of a media frenzy and even solicited a response from the Head of the Saudi Olympic Committee, Prince Nawaf Bin Faisal. According to a report made first by Al-Watan in April of this past year, Prince Nawaf made it clear that in accordance with (the Saudi government's understanding of) shari'a and with respect to the sensibilities of Saudis around the world, women would not be allowed to participate in any official capacity in the Olympics. They could, however, participate unofficially. This came after the International Olympic Committee's own assertion, in March, that it believed women would be allowed to participate at the games in London, which was based on Saudi presentation of the names of possible female athletes who could represent at the summer games.
Unsurprisingly, Saudi's official decision of "unofficiality" only yielded more criticisms for the government, which remained the last country to bar female Olympic participation. Qatar and Brunei, two other countries on that list, have prepared their first-ever female delegations for this year's event.
Yet seemingly coming under the influence of pressure, which also included calls for barring Saudi participation entirely from the games on grounds of violating the IOC's charter, the government announced that it would allow qualified female athletes to compete officially. Truly their greatness knows no bounds, etcetera.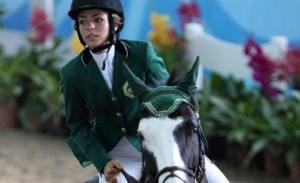 Despite the regime's undue graciousness, concern has been expressed over the sincerity of the move and the impending backlash that could be faced by female athletes in the country. Some of the women worry that by soliciting such negative attention to the country and by challenging conservative mores in such a public way, they could be pushing "too hard" and risking being "shut down completely." It is important to note that very few, if any, women meet the qualifications to compete professionally given government restrictions on women's involvement in sports (another point of protest in the HRW campaign). The one favored athlete – equestrian Dalma Rushdi Malhas – was disqualified given an injury incurred by her horse, "sending officials on a hunt for other female athletes they could include on the Saudi team and avoid IOC sanctions a month before the start of the games."
It is more than likely that this move is both a mixture of King Abdullah's, very relatively speaking, more "progressive" approach to gender (which has been sidelined by hardline religious figures) and a PR move to quell the growing negativity surrounding Saudi's mistreatment of women, which is offsetting all the awesome stuff they do, like keep Bahrainis in check. That being said, it can be more than speculated that the HRW campaign came amidst political considerations beyond simply the summer games and that the Saudi campaigns to allow for women to drive furthered the atmosphere for, uh, increased female mobilization in all facets of life.
Go team go.