Alaa Morely, the Syrian woman who stated in an interview on Syrian television in June this year that she had fabricated news reports for Al-Jazeera, has fled to Turkey, where she tells about her forced confession.
A New Zealand museum will ban men from watching a documentary featuring unveiled Muslim women, as per request of the film maker, Qatari Sophia Al-Maria. This restriction has led to several complaints and some claim it is discriminatory towards men.
According to a statement by Human Rights Watch last Wednesday, the 2011 law banning Female Genital Mutilation in Iraqi Kurdistan has not been enforced by the local government, and Kurdish women and girls continue to undergo this mutilation.
In Brunei, the demand for all-women fitness centres is increasing, but they are surprisingly hard to find in the country.
Shamima Akhtar, the girl who was assaulted last year by her family members because she had kissed a "white boy," speaks to the Daily Mail about growing up in a Bangladeshi Muslim family in the UK and the support she has in her boyfriend Gary.
According to a report by the Tanzanian Media Women Association (TANWA) many Zanzibar women are still being beaten and bullied by men, but few will report this violence to the police.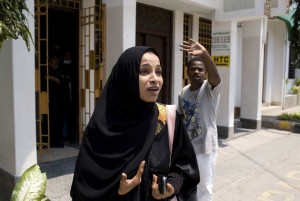 According to Hala Al Karib in the Sudan Tribune, the ongoing appearance of stoning cases in Sudan is not a coincidence, but rather a product of the culture of violence and discrimination, which has intensified after the indepence of South Sudan.
A Muslim cleric and five followers from the Russian republic of Dagestan have been killed by a suicide attack. The suicide bomber has been identified as 30-year-old Amanat Kurbanova. RT reports that Amanat/Aminat is a Russian female convert to (radical) Islam, who used to be an actress.
Somali refugees are facing discrimination and harassment in the community of Forserum in south central Sweden;
one woman was forced to pour milk over herself
, and other women had their headscarves removed with force.
Women News Network profiles Afghan presidential candidate Fawzia Koofi and her book The Favored Daughter.
RFERL features the story behind the story on the assault on Kyrgyz migrant women by fellow countrymen in Russia.
Due to fear of suicide bombings and violence, people in the Yemeni province of Abyan are staying inside most of the time. For pregnant women this means that they often do not make it to the hospital in time for birth. At least five women have died recently due to dysfunctional labour.
Muslim girls in the southern African nation of Mozambique are now allowed to don the headscarf in both public and private schools, after an earlier decree that allowed the use of the hijab only in the month of Ramadan caused much confusion and uproar. Face covering veils are forbidden.
Egypt's president Morsi appoints few women and few Christians to his team of advisors, despite his promise to both appoint a Christian and a female vice president.
During the summer holidays, many Senegalese girls from the countryside flock to the cities in search of odd jobs to save money for the following school year. For many, the income generated is not sufficient and many girls turn to trading sex for favors from their employers.
In addition to goods, brides and bridegrooms are now being smuggled into Gaza as well, opening up more opportunities for Gazawi youth to get married.