This post was written by guest contributor Sya.
At the beginning of Ramadan this year, a KONY2012-like video started making rounds on social media. It gave a twist to the white saviour trope with a dash of neo-colonial religio-cultural imperialism and condescension.
I'm referring to #SaveMaryam, an initiative from Mercy Mission Worldwide to raise awareness about Muslims converting to Christianity in Indonesia. In the campaign video, Maryam is a 16 year-old Indonesian who converts to Christianity because the support from a Samaritan helpline and the love from her newly-converted Christian friends help her overcome problems at home. The convincing proselytisation of Christian missionaries who mimic Islamic practices and words, spreading their messages far and wide through TV channels, are contrasted with her alleged lack of access to Islamic knowledge in Indonesia, supposedly only through Friday sermons.
But why is Maryam, even as a symbol of an "entire generation of Indonesians," yet another Muslim woman who needs to be saved by the West?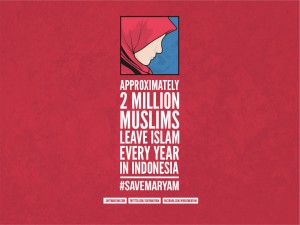 Just as some Western activists feel a need to rescue Muslim women from oppression by Muslim men, Mercy Mission as part of the Global North wants to rescue poor Maryam from the religious oppression of her fellow citizens. Maryam is portrayed as vulnerable to emotional weakness and peer influences and is quickly swept along by cunning Christians offering love and support. Would the choice of a teenage male migrant or a grimy street child (more likely candidates for Christianisation in Indonesia) would have attracted more donations instead of an anonymous and demure hijabi?
The central (and controversial) claim driving the global fundraising campaign is that two million Muslims convert to Christianity in Indonesia each year (that's one every 15 seconds, if the chilling soundtrack didn't worry you enough). The target of £2m is aimed at establishing an office, a TV channel and youth helpline in Indonesia to revive Islam.
The problem is, most of the claims made in the video are simply untrue. Within a week, Muslim and Christian Indonesians had protested on Facebook, Twitter, and blogs, protesting out the exaggerated statistics, the ignorance of Indonesian cultural and socio-economic context, the demonisation of Christianity, and the danger of fueling Christian-Muslim tensions in socio-politically sensitive areas.
How many Maryams?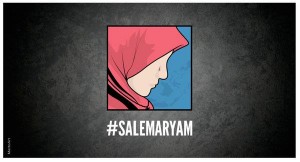 Maulana M. Syuhada, a Muslim Indonesian PhD student in the UK, contested the two million statistic used in the original #SaveMaryam video, calling it a "dodgy projection." Calculations done here, based on 2010 state census data, estimate the actual number of new Christians a year to be around 300,000 to 500,000 (not accounting for births and immigration, which would make the number of converts even less). Mercy Mission later explained their research methodology, and defended the use of "two million" not as a "census-based fact", but as a marketing strategy to attract donations.
Protests against #SaveMaryam increased after the International Crisis Group (ICG), falsely quoted in the video, called them out for misrepresentation of their report. Shortly after, Muhammadiyah (one of the two largest Islamic civil society organisations in Indonesia, alongside Nadhlatul Utama) swiftly refuted any claims of partnership. Concerned about the potential religious strife that #SaveMaryam could cause in Indonesia, Maulana together with a "wave of moderate Indonesian Muslims" launched #SaveUdin to promote 'peace and religious tolerance' and also address doubts about #SaveMaryam.
Why Maryam won't listen
Reading what the supporters and opponents of #SaveMaryam had to say revealed the extent to which Mercy Mission lacked comprehensive research for such a large-scale, cross-cultural and transnational project, which resulted in a glaring lack of awareness of context. To them, Muslims and Christians appeared to be monolithic and universal communities, with no differences across nationality, ethnicity or class.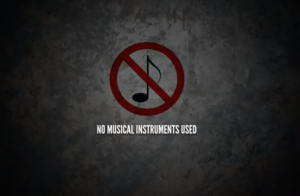 The first clue that #SaveMaryam needed nuance was the ad hominem attacks on Maulana, the student who contested the statistics provided by Mercy Mission. The director of Mercy Mission revealed his ignorance of Indonesian culture when he posted a passive-aggressive Facebook status update doubting Maulana's intentions because he plays angklung and other musical instruments. In this status update, he mistakes "Maulana," a common non-Arab Indonesian first name for men, for a title commonly reserved in South Asia for a respected Islamic scholar.
But do all Muslims consider music haram? Bambang Priantono pointed out that music and other forms of art are largely accepted by Indonesian Muslims as they can be a form of context-appropriate da'wah. Even Islamic TV channels on Indonesia include music in their broadcasts. Historically, traditional music such as gamelan and traditional art forms like wayang kulit or puppet theatre were exactly the strategies used by the famous Wali Songo or Islamic missionaries to Java many centuries ago. Cultural or ideological differences, when not taken into account, could be used to present one party as more "Islamic" than the other.
On the issue of names, the original Save Maryam video suggests that Christians are using words such as Allah, iman and salah to intentionally confuse Muslims. While the ICG report describes cases where Arabic script is used on the cover of booklets with this aim in mind, Ioanes Rakhmat, an academic specialising in Christianity, points out that the secular nature of the Indonesian state means that people of all faiths have always been free to use these terms in the national language. While giving thanks before a meal with some Christian Indonesian friends, I realised that the use of the same Indonesian words for "God" and "gratitude" meant that I could easily remember Allah in my own head!
Reaching out to Maryam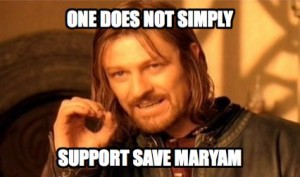 Conversion to Christianity is indeed taking place in Indonesia – but large-scale and overt incidents occur mostly in extremely poor and isolated communities. Hadiyan Faris Azhar provides a description of daily conversion in his hometown in Gunung Kidul, Central Java on the Muslims Unite to Question Save Maryam Facebook page: Christian missionaries give packets of noodles, cooking oil, or rice to grindingly poor people on the condition that they convert. Meanwhile, other commenters provide detailed descriptions and contacts of grassroots Islamic efforts working in deeply rural and isolated communities to alleviate poverty and strengthen the aqidah of the poor facing aggressive Christian proselytisation.
Mercy Mission's suggestion of a TV channel was met by some Indonesians with scepticism (and memes, as seen in this post). They pointed out that not all areas of Indonesia are covered by TV signals, and some of the very people that are being proselytised don't even have electricity in their homes, let alone a satellite dish. Again, this shows a lack of awareness of socio-economic context.
Furthermore, it's possible to promote Islam without vilifying Christianity. I believe secularisation, or religious apathy, is more common among youth than embracing another religion. Social problems facing all youth, whether Christian or Muslim, such as accessing pornography on mobile phones, drug abuse, homelessness, unwanted teenage pregnancies – all these can and should be tackled without pointing to other religions as a scapegoat.
Finally, many Indonesians place great importance on maintaining good relations with other faith and ethnic communities as part of national pride and unity. They worry that some of the footage could incite tensions in areas of prolonged Christian-Muslim conflict such as Poso and Bekasi, where there are already reports of relentless proselytisation. Such scenes include Christian Indonesians in rapturous worship who are actually participating in internal revival activities, and a specific church, as if to blame them. Furthermore, the anti-Christian videos and articles on the SaveMaryam (Indonesia) Facebook page administered by Mercy Mission have been met with scepticism and shock at the possible content of the promised TV channel.
Listening to Maryam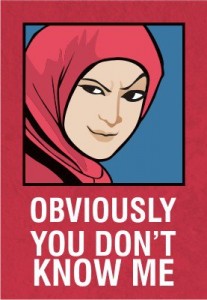 I hope that Indonesian voices can be a valuable source of feedback to Mercy Mission. However, those who opposed the portrayal of their country, their Muslims, their efforts, and their Islam were promptly banned from certain Facebook groups (supposedly to adhere to Quran verse 8:46). Even after a meeting between Mercy Mission and Maulana together with other like-minded Indonesians, the latter were dismissed as an uncaring "vocal minority." It seems like Mercy Mission is trying their darndest to not listen to the very people they want to help (except those who agree with them).
It is worrying that a campaign seeking a large amount of the ummah's money is not based on accurate information, educated estimates, consultation or awareness of context. Mercy Mission needs to demonstrate humility and an open mind to maximise the potential of this project for inter-cultural and intra-faith understanding. In the words of their own campaign, to "preach less and listen more". If and when she needs help, will Maryam's new saviour listen to her, without judgment and condescension, to truly lend a hand?