In exploring the intersection of digital life and Islam over the last couple of years I've come across a number of projects and articles examining Muslims and the metaverse, from virtual hajj tours and Islamic sacred spaces in Second Life to academic articles on the concept of "e-hijab," which the author describes as Muslim women whose avatars wear the e-hijab as a clear visual manifestation of religious identity.
I was reminded of the idea of e-hijab in looking at images posted by Strawberry Singh, a resident of the virtual world Second Life, for this Ramadan and Eid, with the first in South Asian-influenced clothes, and another in more stereotypically "Islamic" abaya and green hijab, amid other images of avatars in bikinis and clothes not at all related to religion.
I was struck by the similarity between Strawberry Singh's images of her avatars during Eid and Ramadan and the image on the cover of the "Understanding Islam Through Virtual Worlds," a digital diplomacy project carred out by Rita King and Joshua Fouts from metaverse developer Dancing Ink Productions in 2008. I found it interesting that Rita King commented on how people objected to the image on the cover because they thought it was "too sexy," while in fact it came from the avatar of a woman from Doha during an event in Second Life, "with a Muslim cleric and several members of the US military asking questions of each other" and Rita went on to say simply that "the graphic worked."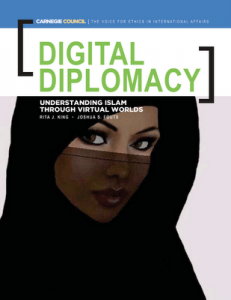 I'd have liked to find out more about how this graphic worked to introduce a project that ostensibly involved exploring several Muslim-themed sites in Second Life, including the Ummah of Noor mosque, a replica of Mesopotamia by the Federation of American Scientists, and the Al-Andalus Caliphate project. As the title suggests, much of the focus was on understanding the religion and learning about how people experience it in a virtual world which, as the machinima says, "allows aspects of Islam to be examined without fear of judgement."
Fear and judgement are a recurring theme, it seems, in discussions around Muslims in the metaverse. For example, answering a question about whether Muslims are more vocal with opinions online, King answered "absolutely, for obvious reasons, which is not to say you won't find outspoken Muslim women in the physical world; you certainly will and we did, but absolutely the absence of fear and physical intimidation is a major asset."
This cuts both ways – one of the stories the two researchers for the Understanding Islam project talked about is a Muslim woman exploring an SL-based synagogue, being curious about what happens there.
The liberatory potential of virtual worlds is a familiar topic, particularly in this current time, and one that is taken up again and again in the Understand Islam report, which can be downloaded here, in terms which anticipates much of the discussion which erupted on the Arab Spring and new social media. The report mentions, for example, that the electronic parallel world has given young Muslims "a voice beyond their mosques and repressive governments." I've come across this exact wording many times before – offering young people a voice outside the mosques, as though young people generally live in mosques, and as if they must be lured out of them by electronic parallel worlds.
Of course, the idea of virtual communities as conflict-free havens for interfaith dialogue is illusory: for example the Understanding Islam machinima includes a segment on a "Methodist from Indiana" involved in the Andalus project, who describes a confrontation with a Muslim convert angry about avatars that are entering the mosque without removing their shoes.
Banning people from the virtual mosque for not removing their virtual shoes certainly highlights the tension that seems to inspire much of the discussion around religion and the metaverse, with the idea of life without the restrictions of real life (implicit in Second Life's name) and the conventional view of Islam as a religion of restrictions, particularly when it comes to the lives of women. On one popular blog for example, the idea of Muxlim Pal, a virtual community catering to Muslims, was greeted with the satiric question "Are there female only beaches?"
Muxlim Pal, of course, has not done very well, and effectively shut down its services earlier this year. But I'd say the reasons for the success of Second Life as opposed to religious-themed, more self-segregating MMOs might be that people enter virtual worlds not so much to escape restrictions as to enter a world of difference and intermingling, a world which I found encapsulated in this story of a comedian on Second Life, who describes what he does this way:
"A Pakistani comedian from Karachi dressed as a Victorian automaton performing comedy in a virtual world for an international audience… if that's not the future I don't know what is."
However illusory it is, there is something appealing about pushing the idea of an open space beyond real life boundaries. For Rita King, the Understanding Islam through Virtual Worlds project was inspired by Rumi's idea of the field beyond the stagnations of conventional morality:
'Out beyond ideas of rightdoing and wrongdoing there is a field. I'll meet you there. When the soul lies down upon that grass, the world is too full to talk about. Ideas, language, even the phrase 'each other' doesn't make any sense.'"
For some reason this Rumi poem has always reminded me of an oft-quoted passage from Salman Rushdie's Imaginary Homelands that I like as much for its dizzying Sufi-like drunk-on-life eloquence as for its premise, because however much we have all come up against the limitations of hybridity as the vaunted model for cultural relations, it would be cynical indeed not to believe in "the transformation that comes of new and unexpected combinations of human beings, cultures, ideas…Melange, hotchpotch, a bit of this and a bit of that is how newness enters the world….change-by-fusion, change-by-conjoining…a love song to our mongrel selves."