This week important progress has been made in securing peace on the island of Mindanao, the Philippines, by the signing of a blueprint of the final peace contract. After over 40 years of violence and over 150,000 dead, fears have been easing in the region, which for one woman led to the end of the 4pm curfew her family had set for her most of her life. To promote peace and religious understanding at the eve of the signing, last Sunday many Filipino Muslim women went to the streets wearing pink hijabs, with the support of many non-Muslims and the armed forces.
Ten days after she, and two other girls, were shot, Malala Yousufzai is still making headlines. Just a pick of some stories surrounding her recovery and her cause: Last week, Malala was moved to a British hospital for medical treatment, where doctors say that she is a strong girl, and she has been making important progress, but her road to recovery is thought to be a long one. Malala is under high security; several visitors have been coming to the hospital, claiming to be family, but police believe that they are not, and they could be out to harm her. The alleged attacker of Malala Yousufzai has been named as Attaullah, who was arrested previously and is now thought to be in Afghanistan. While she becomes a global icon, with another global icon hoping that Malala will receive the Nobel Peace Prize, her attack has many Pakistanis asking for brutal offensive to finish off the Taliban in the country.  Others draw attention to the lack of similar attention to Pakistani victims of US drone attacks.
For many rural Kashmiri families the immediate financial benefits from crafts outweigh the longterm benefits of education, which explains the low literacy rates among girls in the region.
Signs: Journal of Women in Culture and Society has released an open access virtual issue titled "Visibility and Visuality: Reframing Gender in the Middle East, North Africa, and Their Diasporas". The issue features art work by various visual artists and a collection of articles on diverse topics, such as sexuality, political representation and migration.
A Russian school in the North Caucasus region has banned five Muslim girls from attending, because of their hijabs. The Russian Minister of Education defended the girls, and says they have done nothing wrong by wearing their headscarves to school.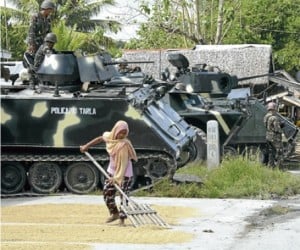 Physician Akbarsho Ahmedov is out to change the way Tajik society looks at infertility. In Tajikistan, marrying another wife is often viewed as the only solution to this problem, even though it is often the man that is infertile. Many of the doctor's male patients have therefore often already married, and divorced, multiple women, before consulting a doctor.
In Kuwait, the views, and statistics, on marriage are changing, and this has the government worried. Last March a campaign was launched named "Marriage Comes First" in hope of convincing Kuwaiti youth that marriage is a priority.
Last year, Iraqi Kurdistan passed a law to ban Female Genital Mutilation (FGM), and even though the tradition still continues in rural areas, there are initiatives that actually help stop this harmful practice.
Kyrgyz lawmakers have voted to toughen the law on bride kidnapping; the maximum jail sentence has been increased from 3 to 7 years.
Twelve Kenyan schoolgirls have sued their school for banning them to attend classes while wearing the hijab. The judge ruled that the hijab does not have to be permitted in class, as it promotes inequality and the school is a secular space.
An Indian Muslim women's group calls for the ban of the unilateral and oral talaq/divorce, using the case of Afshan Bano, who received a talaq from her husband, who was then based in the Arab Gulf.
A teenage girl in Timbuktu, Mali, received 60 lashes for talking to men in the streets.
A German court ruled that a dental practice that refused to hire a Muslim woman because she insisted to wear a headscarf to work, broke the law. This ruling is the first of its kind in Germany.
The New York Times profiles Gazan activist Andalib Adwan Shehada.
For the nomadic women of Kashmir, their mobile lifestyle has often prevented them from getting an education and having access to healthcare. While mobile schools have been available to other nomads, they have not yet been established in the Kashmir region.
After stabbing his pregnant second wife to death, a man in Manchester, UK, has to serve a minimum of 21 years in prison. The man was already married, when he started an affair with the victim, whom he later married in a religious ceremony, with the consent of his first wife.
Kuwaiti presenter Yusra Muhammad has been put on trial for her program Fi al-Sameem (Straight to the Heart), in which she tackles topics such as prostitution and violence against women. The Kuwaiti media ministry claims the program is "an affront to decency."
An Egyptian school teacher has been fired, after she cut the hair of (the only) two 12-year-old students in her class, who did not wear hijab.
An increasing number of Tajik women are being divorced by their husbands working in Russia, which leads to serious social issues.
The BBC profiles the first female film maker in Saudi Arabia: Haifa al Mansour.
Despite often being cited as a model of progress, violence against women persists in Bangladesh.
The number of babies abandoned in Morocco by single mothers is increasing fast. Activists blame social prejudice and the outdated legislation.