Two weeks ago, a dispute erupted between Saudi Arabia and Nigeria over the former's detainment of more than 1,000 women purported to be travelling for hajj without appropriate male chaperones.
It started on Monday, September 24, when a number of Nigerian women were prevented from entering into Saudi Arabia after landing King Abdul Aziz International Airport in Jeddah. Subsequent flights into Jeddah's international airport resulted in more women between the ages of 25 and 35 been stopped and detained so that Nigeria had to put a halt to airlifting pilgrims.
There is a lot of confusion as to why the women were detained in the first place. Some women were refused entry because they did not have sufficient proof of being married even when their husbands were with them. Some of these women had different last names from their husbands, yet others were stopped because the male guardian listed on their visa had already arrived in Saudi Arabia or was to travel at a later date. The women may also have been detained because Nigeria tends to be "shoddy" when it comes to issues surrounding international travel and immigration. There are many Nigerians who enter Saudi Arabia illegally to seek work.
While the Nigerian government and officials had a lot to say about the treatment of these female pilgrims, the few words from Saudi authorities tried to justify their decision to detain and deport the women as they apparently did not stick to the rules for hajj. However, the Saudi Ambassador to Nigeria came out to explain that it was not only Nigerian citizens that made up the detained pilgrims, and that pilgrims from other countries have been subjected to similar screening. The Saudi Ambassador also said that Saudi authorities had been more "flexible in the past," but had decided to enforce the mahram law strictly this time.
Meanwhile, a five-member team was set up by the Nigerian President Goodluck Jonathan to negotiate with Saudi authorities. This team went on to release a report on their investigation. According to this report, Nigerian pilgrims' welfare boards and the National Hajj Commission of Nigeria (NAHCON) have acted as mahrams, with visas granted to women on this basis. The NAHCON commissioner in charge of operations did state that there were no difficulties when it came to the Saudi embassy in Nigerian issuing visas, and that there was no communication to alert the commission that something was wrong. The Nigerian team's report on the issues also claims that "only Nigerian pilgrims were affected by the policy;" it is not the only source to make this claim.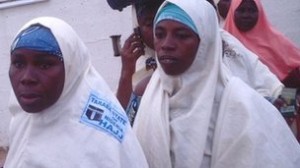 Several Nigerian sources highlight the sense of victimisation in the treatment of the female pilgrims, which comes as no surprise, as this is apparently the first time Saudi Arabia has sent back such a large group of women because of its mahram policy . Among the thousands of female pilgrims deported from Saudi Arabia was one male pilgrim who returned to Nigeria with his wife in protest, prompting an official with the NAHCON to suggest that there was a hidden reason to the stance of Saudi authorities than they were letting on, as the women had fulfilled visa requirements before boarding the plane out of Nigeria. Even more suspicion was expressed in this opinion piece by Adamu Adamu for the Daily Trust, which points out that a number of flights came from Nigeria to Jeddah without any issues. Nigerian women were also unmolested at the Prince Muhammad bin Abdul Aziz International in Medina. Adamu suggests that there was no new policy to speak of, as the Saudi officials only started enforcing their strict new procedure on female pilgrims in the Medina airport after Nigerian officials complained about the unfair treatment of Nigerian female pilgrims in Jeddah.
Only a few media sources have pointed out to the likely racial discrimination in the treatment of the detained pilgrims who were made to sleep on the airport floor for days without access to their personal belongings. Adamu's piece is one of the few that calls out Saudi racism against Blacks and disrespect to pilgrims. Another is Nesrine Malik's article in the Guardian, which mentions the often negative treatment towards Black Muslims in Saudi Arabia. Muslim women from the African continent in particular seem to have been targeted as some may recall last year the ban on young Moroccan women performing umrah due to the sexual stereotype that portrayed Moroccan women as having "loose morals."
Confusion still remains as to why such a large group of female pilgrims was held and deported. Nigerian officials insist that women have previously been allowed to travel in groups with welfare boards acting as their mahram, and some women in the group were married and had their husbands accompanying them. Some of the deported women who granted interviews; for example, Aisha Isayaku and Mariya Ahmed, interviewed by the BBC, complained of the inexcusable treatment they received in Saudi Arabia. Both women suggested that the male guardians were taken to Medina and allowed into the country while the women were left behind.
Despite the dearth of clear details on the situation, it is clear that several factors were at play in the detainment and treatment of so many Nigerian female pilgrims. Discussion on the racism and poor treatment of Black pilgrims to Saudi Arabia needs to be had, and it would have been better to hear more about the predicament from the women who faced it themselves.