Last Friday Malaysian activists slammed the wedding of a 12-year-old girl to her 19-year-old boyfriend and said they are renewing their calls on the Malaysian government to outlaw child marriages. The girl's father allegedly said that it is better for his daughter to get married, than to do something "improper."
Female Genital Mutilation is said to be on the rise again in Egypt after being officially banned in 2008. Now some Islamists are pushing the government to revoke the ban and legalize the custom.
In the struggle for equal rights in Yemen, illiteracy is one of the biggest problems facing Yemeni women; 69% of women and girls over 10 in Yemen cannot read nor write.
Last Monday a United Nations committee, led by African countries, voted to ban female genital mutilation; it is now almost guaranteed that the resolution will be adopted by the full global body in December.
According to opposition websites, all in-person visits to the female prisoners in Iran's Evin prison have been terminated.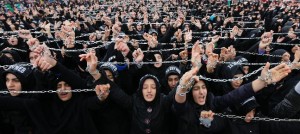 In Iraq, much of the society is still divided by sectarian lines; Sunni Hassan and Shi'a Zahra defied their families' wishes by getting married and are sharing a "crazy love" until today.
The short documentary Unprotected focuses on the lack of protection for both victims and witnesses in the local war crime trials in Bosnia. It features the story of rape victim Z.R., who, despite being promised to be a protected witness, found her picture all over the news the next day. She now fears for her life.
Saudi activist Manal al-Sherif has been sharing the news over Twitter that Saudi husbands now receive a text message whenever their wife is leaving the country by air.
Turkey has lift the ban on headscarves for female students in religious schools.
After over four years in prison, Kurdish political prisoner Zainab Bayazidi has been released from Iranian prison.
The BBC interviews Essma Ben Hamida, founder of one of the biggest microfinance firms in North Africa, on how microfinance has changed the lives of many poor Tunisian women, and why she prefers to give loans to women.
Last year, it is estimated that in Jordan alone at least 500 underage Syrian girls were married to generally much older foreign men, in return for a dowry; with the winter around the corner and the war unceasing, it is predicted that the number of Syrian brides will only increase in the upcoming months.
According to the Afghan minister of women, attacks on women in Afghanistan are getting more brutal and extreme. Last week a 15-year old girl in Afghanistan has been killed over her refusal to get married. May Allah grant her everlasting peace.
Female genital mutilation has been banned in the UK about 30 years ago, but the country has
failed to put to trial anyone guilty of the crime
, and is now launching a new action plan to tackle this problem.
Every week hundreds of illegal immigrants and impoverished Bangladeshi's leave Bangladesh on a dangerous boat journey to Malaysia; Rohingya Sameera Begum's husband was one of them, and after news that his boat sank and he has gone missing all she can do now is wait for more news.
16-year-old Sumaiya Karim is believed to be the first person to address the British House of Commons from the despatch box in hijab.
With the Kuwaiti parliament currently dissolved, Kuwaiti women hope to again win seats in parliament in the upcoming elections. At the moment there are no female representatives in the Kuwaiti parliament.
The Indonesian Committee on Violence Against Women has found 282 bylaws in the country that discriminate against women, which is an increase from last year; most of these laws prohibit women from going out late at night and from dressing in certain ways. According to the Home Affairs spokesman however, these laws are protecting women. Question is from what?
In an interview, Sharmista Dasbarwa, the UN Development Programme's project manager for gender equality in Afghanistan, speaks about the struggle to secure gender equality and her respect for the courage and resilience of Afghan women.
The art of henna painting, which is becoming increasingly popular in Kenya, provides a means of income for many Kenyan, predominantly Muslim women.
A fire in a garment factory in Bangladesh has killed about 110 people, mostly women, last Saturday. The tragic death of the workers, and the questionable circumstances have led to a public outrage; one female survivor says that her overseer told her that it was a routine fire drill and that she should continue working.
Deutsche Welle features an interview with Nihal Saad Zaghloul, a Egyptian civic rights activist and a victim of assault on Tahrir Square.
This week a campaign has been launched in Tajikistan to educate men and women on domestic violence. RFE/RL speaks with married Tajiks in the capital Dushanbe on what they have to say on the topic of domestic violence.
Al Jazeera features a film on a female principal, Shabeena, who has opened her school to all, boys and girls, on Pakistan's Taliban frontier.
In Washington D.C., USA, a group of Muslim women, hailing from the capital's diplomatic circles, have held a fundraising event for the victims of superstorm Sandy.