December 1st was World AIDS Day, and among the many AIDS-related stories from various places were some involving Muslim women. Tahmina Haidar is a 26-year-old Tajik woman, a widow, and HIV-positive, but she sees her infection as her destiny, which, she says, has affected her life also in a positive way. Faghmeeda Miller is from South Africa, she married in 1994 and became a widow the same year, not knowing that her husband had died of AIDS. She now battles the stereotype that good Muslim women cannot be HIV positive, and tries to raise awareness in her community. The Yemeni Women's Union organised a workshop on HIV/AIDS; there are 3,500 reported cases of HIV in the Arab country, of which a third is female.
The practice of Female Genital Mutilation is over 2,000 years old in the West African country of Senegal, but according to an activist, Senegal could just become the first African country to end FGM.
Fata Ortovic is a 70-year-old Bosnian widow, who had fled her home and village during the war, but when she returned to her hometown in 1999, she found that her house had been occupied by an Orthodox priest and that there was now a church erected in her yard. Al Jazeera features a documentary on her fight to have the church removed, and despite the threats and abuse, she is determined to keep fighting.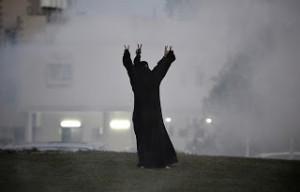 At least 50 Uyghurs were injured in protests, after a Han Chinese man lifted the veil of an Uyghur girl.
For the first time, Saudi school books feature photos of women.
Parents in the Russian region of Stavropol have been complaining that their daughter, a 3rd grade student, has been sent home for over 2 weeks now by the teachers, because of her hijab. Local religious leaders urge the authorities to allow girls to wear the hijab and long skirts.
Roya Mahboob is young Afghan CEO and founder of a thriving IT firm in Afghanistan and she hopes that her success will inspire change in the still very conservative country.
32-year-old Bibi Shehzadi from Bihar, India, has been executed in public for allegedly having an extramarital affair. Bibi Shehzadi was popular among the local women for forming a self-help group for impoverished women. May she be granted eternal peace and justice.
The new marital equality law in Cote d'Ivoire, which states that both marital partners are equal, has sparked controversy among religious leaders in the west African nation.
The BBC features the story of Libyan rebel Magdulien Abaida, who had to flee Libya as the situation for women in the country sours.
An art festival in Iraqi Kurdistan was dedicated to the eradication of violence against women, and even though it was considered a success, one woman expressed her disappointment at the absence of women at the festival.
Qantara.de interviews filmmaker Lina al-Abed about her life in Syria and her new film Damascus, My First Kiss, which explores the sexual conscience of women in Damascus, Syria.
Last week a case of indecency against the Tunisian woman, who was allegedly raped by two policemen after they found her in an "immoral position" with her boyfriend, was dropped. Last Monday, the Tunisian prosecutor has appealed against this ruling.
Two fatwas by an Islamic authority in Uttar Pradesh, India concerning female receptionists (un-Islamic) and praying with tattoos (not acceptable) have left many local Muslims perplexed.
Over 10 years ago, the United Nations adopted resolution 1325, which requires the participation of women in all stages of peace making and conflict resolution. In the Israeli-Palestinian conflict however, women are absent on both sides in the negotiation process, but this does not mean that women are not involved in unofficial peacemaking efforts.
Anisa, an Afghan student and polio-vaccination programme volunteer, has been shot dead in eastern Afghanistan.
EurasiaNet.org shares the story of Fatima Musabayeva, who was trafficked from Kazakhstan to Russia with her sister, where she was abused and was held as a modern day slave. Like many victims of human trafficking in Central Asia, Fatima Musabayeva does not really stand a chance in prosecuting her captors, but her main goal now is to find her sister, who is still in the hands of the traffickers.
The escape of a convicted terrorist from Indonesian prison in a "burqa" has prompted a discussion in the country about requiring to screen veiled women at prison facilities.
22-year-0ld Ruksana Begum, whose brothers were sentenced for a plot to blow up the British Stock Exchance, has been jailed for a year for possession of Al-Qaida related material.
Violence against women in Afghanistan is on the rise, especially from family members, which once again stresses the fact that the fate of Afghan women is connected to the partners, and families, they are married to.
Nasrin Sotoudeh, the Iranian lawyer that is currently imprisoned, has ended her 49-day hunger strike after the travel ban on her 12-year-old daughter was lifted.