Al Jazeera reports that in Syria, women are increasingly becoming weapons of war between the government forces and the opposition. Em Joseph is a 40-year-old female rebel from Syria's Idlib province and considered a rarity in these parts, but is accepted as a sister in arms by her comrades. There have been reports about a female batallion of Kurdish women in Syria, but there are no real confirmations on that. Despite the rise of stories of Syrian women in combat, many (displaced) women and children are still subject to serious gender-based crimes, such as rape. As well, an estimated minimum of 17 thousand women have become widows since the start of the war, and approximately 60,000 people remain missing.
In Turkey, state-run brothels are gradually closing, as a part of the policy by Prime Minister Erdogan to eliminate all prostitution in the nation; sex workers are worried, however, about the effect this will have on their health.
The burqa business in Kabul, Afghanistan has been facing a steady decline, as fewer women now wear the garment and cheap imports from China flood the market.
Iran's morality police has now developed a program for toddlers to teach them about hijab and chastity, through art expression, for example. Spring is usually the time that Iran cracks down on "inappropriate" dress.
Last weekend, Wojciech Inglot, the man behind the Polish company Inglot, passed away; the Associated Press talked to Inglot nine days before his death about the breathable nail polish and how his new product affects Muslim women.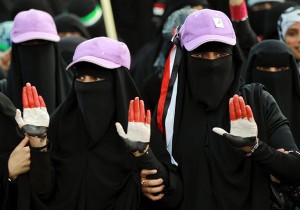 The Indonesian official who divorced his teenage bride via SMS has been sacked, but says he may run again for office.
Gazan sisters Sabah and Shrouq Abu Gunaim are passionate surfers, but continuing to practice the sport in the open has become difficult as the sisters are entering adolescence in a conservative society.
A rising maternal mortality rate and high schools without girls in over 200 districts are just two of the phenomena that are related to the social problem of early child marriages in Afghanistan.
Qantara.de features an interview with American scholar of Islam Amina Wadud.
Over Twitter, a controversial Saudi cleric referred to the women on the country's Shura council as "prostitutes."
According to a report by Amnesty International, over 30 Sudanese women have been detained by the Sudanese government since November 2012 without access to a lawyer and medical care. Some of the lives of the women are said to be at risk.
One teenage girl relates how at least 13 Rohingya women and girls were raped and subjected to abuse by Burmese security forces in the night on February 20, 2013.
It has been reported that the proposed bill that would limit Iranian women's travel has been cancelled.
In Jerusalem, a number of Jewish women attacked a Palestinian woman at a train station and they tried to remove her headscarf.
Naomi Oni, the British woman who was allegedly attacked with acid by a woman wearing the niqab, is now herself subject of investigation, as suspicions have been raised that she inflicted the injuries on herself.
Despite the fact the legal age for marriage in Kyrgyzstan is 18, over 10% of the women get married before that age; civil society groups are working to prevent early marriages, which are often not registered by the state.
Early marriage for girls is very common in Senegal, but now local imams and other leaders are speaking out against this practice, with success.
With a 60% unemployment rate and 10% inflation, life in Turkmenistan is for the majority of the population mere survival. Turkmenistan's president however, has announced that he will convert one of his palaces to apartments, which will be rewarded to families who will have their eighth child before Women's Day, March 8. Because population growth will definitely solve all the problems, right?
15-year-old Amina Qureshi's appearance on a picture as a hijabi Bradford City fan in Britain has given her global attention; the BBC talks to her about her love for soccer and her memories of the night that picture was taken.
Ten years after the invasion of Iraq, Iraqi women are far from liberated; rather, they live under today's sectarian assault, according to Haifa Zangana.
A proposal to lengthen the paid maternity leave allowance in Turkey, has some Turkish women worried that this might actually hinder their participation in the workforce.
34-year-old Azra Jafari, Afghanistan's first female mayor, has proved critics wrong, as she has won respect in her village and continues to fight to improve lives and the status of women in her community.