Last week on Maundy Thursday, Pope Francis I washed the feet of inmates in Rome, Italy, one of whom was a Muslim woman.
The government of Kerala state, India has decided that women cannot go on hajj alone, after Aminakutty Mohammad demanded a court order so that she could perform the pilgrimage with a female companion.
Yesterday, April 4th, was Topless Jihad Day, an initiative by FEMEN (who else), with demonstrations throughout Europe to support Tunisian activist Amina Tyler. As a response, Muslim women starteed a campaign, called Muslimah Pride Day on Facebook.
Singer Ermia won an Iranian talent show, which was broadcasted in London. She wears the hijab and sings in public, which angers some and makes others question her background and intentions.
Tuareg rebels in northern Mali are capitalising on the chaos caused by fighting to reacquire captives, whom they consider to be their slaves, and property from birth. The Guardian shares the story of Raichatou Walet Touka, who fled a life of slavery, but fears for her family.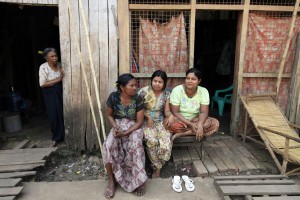 Last week, Bahraini police broke up a women's protest with teargas and stun grenades.
Al Jazeera's Witness tells the story of Ida, a young woman growing up Kuala Lumpur, Malaysia's Chow Kit district, where she battles the pressure of drugs, poverty and position.
A Turkish report finds that one-third of Turkish women do not feel safe outside, compared to about 12% of the men.
According to Libya's Grand Mufti, Libyan women should be banned from marrying foreigners, even if they are Muslim and/or Arab.
The Chinese navy has started recruiting Uyghur women in what seems to be an experiment to open the military for minorities, especially from the volatile Xinjiang region.
The Hamas Education Ministry in Gaza has published a new law which will further promote gender segregation in Gazan schools; men will not be allowed to teach girls and children will be separated according to gender from age 9.
The Afghan man who said he had to pay his debt by selling his 6-year-old daughter, says now that an anonymous donor has come up with the money and that the debt is settled. For now though, some say it is still possible that the lender will still claim the girl in the near future.
In Baku, Azerbaijan, a new park is being built to commemorate the anniversary of the birthday of a previous president, for which many homes have to be demolished. One woman fears that she will have no place to go, and that demolishment will start before he evacuation date.
MSNBC profiles Asma Hanif, an American nurse who has dedicated her life to women in need.
More Sudanese women are joining gyms in an attempt to lose weight to adhere to the global, thinner, image of beauty. In Sudan, until fairly recently, women were encouraged to be plump.
Tawakul Karman inspires Yemeni women to continue their tough battle for gender equality.
The president of the Western Saharan republic has sent a letter to the Moroccan King in which he described the recent aggression by Moroccan security forces against Sahrawi women peacefully protesting as a "shameful act."
Women in Saudi Arabia are now allowed to ride bicycles and buggies in public, with a male guardian present of course, as one could fall or get into an accident and we all know, those situations cannot be solved without a capable male present.
Human rights activist Ragia Omran speaks about the rise in violence against women in Egypt.
IWPR has an interview with Aida Kasymalieva, the journalist who reported on the assault on female migrant workers in Russia, about the Kyrgyz female travel ban, which she completely opposes.
Al Jazeera features a detailed article about the Palestinian prison-smuggled sperm, which makes it possible for men to impregnate their, often young, wives from behind bars.
By feeding rebels, Syrian Um Omar says she has found her way of helping the revolution.
Gazan student Rawan Yaghi heads to Oxford University on a scholarship, paid for by Oxford students.
The Thai Law Reform Commission is trying to promote gender equality in Thailand; selling the idea is difficult, in particular in the predominantly Muslim far south of the country.
This year's Birds Eye View Film Festival in London, UK features only work by Arab female film makers.
The Guardian profiles Zainab Salbi, who set up Women for Women International at age 23.
Two Pakistani women from Pakistan's tribal region are making history by becoming the first women from the region to run for parliament.
Malian Dizawahet was born 23 years ago in a refugee camp in Burkina Faso, and now again she finds herself in Burkina Faso, where she most likely will give birth to her third child. Though she is grateful for all the help she and her family receive in the camp, she really only dreams about returning home.
The headscarf debate in France has been rekindled, yet again.
A fashion show in Bishkek, Kyrgyzstan featured modest clothes targeted at Muslim women.
A government programme in Khyber Pakhtunkhwa, Pakistan has raised girls' enrollment in schools with 16%, a report says.