This post was originally posted at wood turtle's blog.
Two years ago, Mohsina Nosarka contacted me asking for feedback on an Islamic book series she was in the process of writing and illustrating. As I'm always on the lookout for new and exciting children's Islamic literature, I gladly obliged. And since our initial contact, I'm thrilled to announce that she's become a published author!
Born in Johannesburg, South Africa, Mohsina relocated to Lusaka, Zambia after she got married. When she's not writing, she cares for her two beautiful little girls and is the principal of an Islamic Preschool and Early Learning Centre. Mohsina has been truly generous and sent us copies of her new series. One for my daughters Eryn and Ivy to test drive and one to share with all of you!
There are four books in the series — and each one is really, a cute little gem.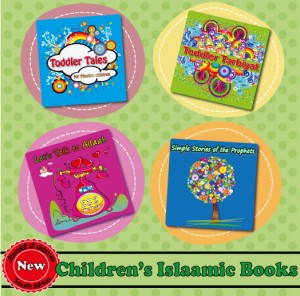 Toddler Tales is a collection of several popular fictional stories and morals rewritten to appeal to Muslim children. Our favourites, Angels in the Garden is a lovely tale about two sisters looking for angels that care for trees and flowers and Mariam the Mouse teaches children the importance of work and future planning over laziness.
Eryn loves Simple Stories of the Prophets. This book contains retellings of some of the lesser "well known" Prophets, such as Yoonus, Saalih, Hud, and sets the stories around their miracles or attributes. The story of Adam and Hawaa' is retold ingeniously as, When Allaah Gave a Time-out. What I love about this book is that I'm always trying to remember the stories of the Prophets, and instead of spending time researching, it's all laid out on one page for me to read. The simple prose also allows me to expand on ideas, add details, and the concepts are easy for a young child to grasp.
Let's Talk to Allaah teaches children how to make dua'a. In English. Which I love! Each dua'a is titled with one of the 99-names of Allah and is written "diary style" — like a child jotting down their thoughts and feelings in a conversational way, encouraging children to simply start talking to God about their fears, questions, hopes and dreams.
Toddler Tarbiyat is the cutest, as it's written with lyrical rhymes — and is all about encouraging good behaviour, like cleaning up, not interrupting and going to the potty.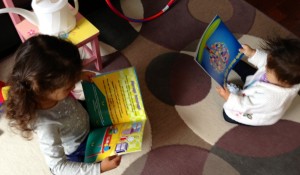 These books are amazingly colourful and are illustrated with whimsical, imaginative doodles that follow the Islamic tradition of not drawing pictures of the Prophets or animate objects. This hasn't phased Eryn in the slightest — who is used to a whole slew of media influences She loves staring at the pictures of castles floating in the sky, a golden submarine whale, exploding birthday cake cannons, and when she wants to "see" Mariam the Mouse, Eryn just pretends the mouse is hiding in the grass.
What I really enjoy though, is that they're written with a humble approach to religion. Unlike other books I've looked at, I don't have to wade through theological concepts, or roll my eyes at gender stereotyping. Each story has a Golden Rule type of quality — like emphasizing cleanliness, goodness, or generosity — something that is quintessentially Muslim.
Each book is dedicated to someone special in Mohsina's life — so I thought I would ask her a few questions to learn more about her fantastically busy life and how she became an author:
Describe a typical day for you.
A typical day would begin by sending the girls to school and hubby to work. I finish the usual household chores and then go to school. The girls go to maddressa in the afternoons and I try to hit the gym, do the grocery shopping or run any errands. Evenings are spent monitoring the girl's homework and cooking. After dinner the girls go to bed — bringing me to my favourite time of the day — when I get to relax with my hubby. The girls stay with my wonderful mother-in-law on the weekend, which gives me time to work on the books.
Just another day in the life of a mom!
What inspired you to write Islamic children's books?
Our pre-school is non-profit and when we started we had no money for resources like story books. So I began writing these stories to amuse the children. The kids loved the stories which gave me the idea to publish them. But no children's book is complete without pictures. Luckily for me, I have an amazing hubby who patiently taught me how to use Adobe illustrator — and that's how it all began.
Who has helped you or inspires you to write?
Reading other authors' books inspire me. I read stories and try to figure out ways to explain it to Muslim children. And my daughters inspire me to write. It amazes me how children can be happy for no reason, play imaginary games all day and still have the energy to shower you with hugs and kisses! As adults, we can learn a lot from them.
The person who has helped me the most is definitely my husband. He patiently taught me and answered all my questions on how to do the illustrations, he encouraged me throughout the process and gave me constructive criticism. Without a doubt, these books would not be what they are without his influence.
Having said this, all thanks must go to The Almighty. I feel so honoured that God chose to use me as a means to make children happy. I just pray that He accepts this little effort of ours and blesses us in this world and the next.
Can you tell me a little about how you became published?
I had approached three different publishers with samples of the books. Although two did respond, I was still not sure about the market for Islamic children's books, and so I researched it online. That was where I came across an article written by you on Islamic children's books.
I sent you some samples thinking that it was a good way to see if the books were any good. After the encouraging response that I received from my family and you, I became determined to see the project through. We went with the established and well known South African Jamiat-ul-ulama, which was an easy decision considering that I am "Proudly South African!"
It took 5 years from when I wrote the first book to when I finally held the printed copies in my hands!
Where can my readers find and purchase your books? Are they available online?
You can buy them online from www.azharacademy.com
They are also available in various stores in South Africa and Zambia. You can email me for more details on this.
If you want a chance to win one of these books in a giveaway, go to the original post on wood turtle and leave a comment!