Thick tendrils of white smoke curl around my fingers as I add more bukhoor to the incense burner. Nasheed music wafts softly from the living room, creating a calm, somber atmosphere. My children have just come back from the balcony, certain that the new moon made her appearance despite heavy storm clouds. We smile at each other and lovingly embrace in a group hug — the girls wishing me a good fast before heading off to bed.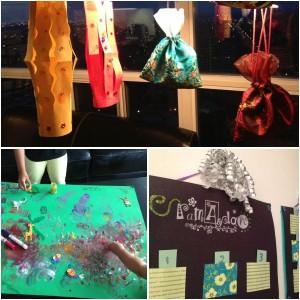 At least, that's how I imagined we would welcome the blessed month of Ramadan.
Instead, we shattered the quiet, reflective time of maghrib by shaking glow sticks in the dusk, blowing noise makers and jumping up and down. We got high off too many dates — the natural sugars making sure my children bounced off the walls until three hours past their bedtime.
Unconventional for some, but amazing to usher in Ramadan with true abandon and joy.
This is the first year that I'm fasting with my daughters Eryn and Ivy — and I'm doing it solo. The Hubby is currently working in the UK, my Muslim family has returned to Kuwait for the summer, I'm unmosqued from the closest community in my area, and while I've previously adjusted to the isolation caused by not fasting due to pregnancy or breastfeeding, I've never had to fast alone on top of experiencing a little single parenting.
Caring for two young children is all-consuming. Every moment of their day is meticulously planned, so I can hopefully get them into bed in time for me to break my fast and find an hour to work on my own spiritual goals. Sure, we normally have a schedule, but I rely a lot on the respite gained from passing off the kids to their father. There is barely enough time for me to perform the bare minimum requirements of prayer — let alone engage in the extra acts of devotion normally associated with Ramadan. Literally every second of my day is dedicated to talking, singing, and moving for the benefit of the kids.
Breakfast, dress-up, laundry, park, picnic, nap, splash pad, craft time, cooking, dinner, clean-up, bath, play and bed — doesn't leave much time for extra worship, Qur'an, or blogging for that matter.
So since I'm outnumbered, I'm learning to experience Ramadan like a child. And that means creating Ramadan spiritual activities that suit the three of us. In doing so, I'm honing and reframing my worship into small, manageable, mind-blastingly fun snippets — in the hopes of encouraging the Ramadan spirit and nourishing my soul in the process. Something that's a complete departure from the usual austere attitudes and seriousness that I usually apply to increasing my imaan.
There's no way I have the opportunity to spend an hour reading the Qur'an during the day. I need that hour to get the girls ready to go to the park. So instead of lamenting over the fact that I'll probably not get to read the Qur'an cover-to-cover AGAIN, we're playing the "Qur'an Game." Every day after 'Asr prayers we all take turns closing our eyes, flipping through the Qur'an and randomly pointing to a verse. I'll then read the verse and tell the girls a related story. It's a refreshing approach that's allowing me to see a lot more of the Qur'an, instead of just trying to get through al-Baqarah by day four. My oldest daughter enjoys keeping "score" based on verse numbers, and the youngest is happy feeling the pages puff air across her face.
My kids love repetition, so we've replaced our daily dance parties with dhikr drum circles. And while it does tend to descend into absolute chaos, with the baby screaming wordlessly while rattling her tambourine, it's still a really nice experience. Okay, so there's no candles, mint tea or "community feeling" — but it's absolutely fulfilling when I later catch my oldest singing "Allah Hu" to herself while she plays with her dinosaurs. The pride I have for her at that moment overshadows any self-indulgent yearning I might have to attend evening prayers at the mosque.
Another outcome of fasting alone with the girls is that I've become a better parent. I'm remarkably relaxed. I'm not rushing the girls to get home on time or ignoring them so I can whip up a four course iftaar spread of samboosas, soup, biryani and curry. I really only have to cook for myself — so my iftaars consist of eating leftover kid-friendly pasta bake. I can't tell you how nice it is not to be stressed over food preparation. It's like I've freed myself from culinary expectations and my own assumed Ramadan duties. I know the girls appreciate the extra attention as well — as tantrums are at an all-time low.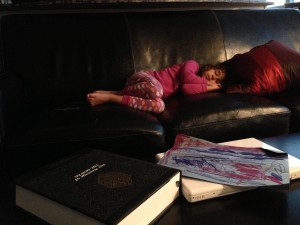 Fasting alone with children is also teaching me to have the utmost patience. When things do get tense, because someone missed a nap or really, really wants to stick fingers into a light socket — I let go. I redirect, embrace patience and learn to release power struggles and stop trying to micromanage my kids. They're happier, and somehow, when I'm seriously on my very last shred of patience after running around fasting all day in the summer heat, I'm still able to find the energy to be so VERY enthusiastic about playing ballerinas and pirates for the fifth time in a row.
On one hand, I can't wait for the Hubby to return so we can all be together and make arrangements to worship at family friendly mosques and then spend the last 10 days of Ramadan in Kuwait with his family. But on the other, I'm really enjoying experiencing Ramadan with silly games — it's no longer just about savouring the sweetness of the fast, but seeing how much excitement it can generate.
Among the glitter glue, painted fingers and stories, there is worship. In my children's smiles, in praying together, and in sounding maghrib with an adhaan of bells and whistles (and in the lovely, quiet moments when we listen to the Qur'an during "silent time"). Then, when I am most thoroughly exhausted and the apartment is so terribly silent while they sleep, I find brief moments to recharge myself — both physically, mentally and spiritually, so we can do it all over again tomorrow.
I recognize how incredibly lucky and blessed I am to have this experience. To have the means to stay at home to enjoy my children during their most impressionable time. And it's simply overwhelming when in turn, they teach me how to enjoy life, love Islam, and reconnect to God.
For more on MMW's Ramadan series, and to read the rest of this year's Ramadan posts, click here.