As one final addition to our Ramadan 2013 posts, we wanted to share a series of reflections on how Eid was spent among some of our writers. Writing, respectively, from South Africa, Pakistan, Canada, and Kuwait, MMW bloggers Safiyyah, Merium, Shireen, and wood turtle bring us their experiences of food, gender issues, politics, and celebration.
Safiyyah (South Africa)
In South Africa this year, 'Eid day coincided with our national holiday, "Women's Day" on 9 August. Women's Day in South Africa is a commemoration of the brave group of women who took to the streets to protest in 1956, against the Apartheid Regime and its racist laws. Of the core group of organizers and leaders of the historic march was Muslimah, Rahima Moosa. I am very proud, as a South African Muslim women of this legacy left to us by our female struggle veteran
One of the protest songs sung on the day was "Wathint'Abafazi Wathint'imbokodo!" (Now you have touched the women, you have struck a rock)  which has come to represent the courage and strength of South African women.
Our masjid (Masjid ul-Islam in Brixton, Johannesburg) commemorated Women's Day with a jumu'ah lecture by sister Rehana Moosajee, who has worked in government for over decade. She reflected on the struggle for gender equality and the way forward. For me, what stood out is her emphasis on the idea that women's participation in any sphere cannot be measured in numbers alone, especially when organizations still operate on male-paradigms and patriarchal values.
This Ramadan had been better than the last two years for me, because my toddler twins are more independent and sleep (a little) more. I managed to make it to the masjidmost evenings, and even had the opportunity of delivering the tafseer of the Qur'an which would be recited in taraweeh to the entire congregation (men and women) a few nights. The masjid coordinators organized a child-care room for the first 8 rak'at of taraweeh, and both my husband and I were able to volunteer, as well as benefit from the facility. Whilst the broader Muslim community has a long way to go in ensuring equality of the sexes in Islamic education and sacred spaces, I was proud on 'Eid day, to belong to a thriving community in which the participation of women has truly been transformative.
Merium (Pakistan)
Although we have nothing special planned this Eid, our celebrations are dampened by the news of another bombing in Quetta on Chand Raat (celebratory evening of moon-sighting announcing the end of Ramadan).  I'm shaken by the idea of dead bodies in a house on Eid Day – imagine facing a death of a loved on Christmas day – devastating.  And after losing my grandmother just before this holy month, the images conjured up by the Quetta bombing are particularly painful.
Nonetheless, my mother is up early (still on the Ramadan sleep cycle) whipping up sheer khurma (a sweet staple that heralds Eid day) and a batch of her famous haleem – a slow-cook meat and lentils dish that's worth the wait and takes hundreds (if not thousands) of hand stirring motions to get that "cottony" consistency.  I wake up to the mouth-watering scent of fried cumin and chilli, the final step to the dish which ends with a liberal drizzle of the hot, buttery oil on the haleem, resulting in a tell-tale sizzling sound.
Mum and I spend much of the next few hours cleaning and cooking (some more); fresh linen everywhere, new crockery and cloth napkins for the main plates.  Our housekeeper Nadine, is away on Eid holidays herself and deserves a break even more than we do.  Separated from her husband who took a second wife in hopes of a male child, Nadine cleans houses for a living and is raising her daughters on these meager wages.  While many have suggested she get a divorce, Nadine confesses that she'd rather survive being "estranged" from her husband than being divorced in this society.  "My daughters will never be able to marry into good families if their mother is a dirty divorcee," she says.  As karma would have it, Nadine's husband just had another daughter with his second wife.
Everyone loves the haleem with naan.  They ooh and aah over the freshly set table and fizzy drinks in crystal glasses.  The house sparkles and the calming scent from lavender candles meshes perfectly with the aroma wafting from the kitchen.  And with the gentle pitter-patter of rain outside, you could almost almost forget we'll be spending the next four hours cleaning up.  There will be dishes to wash, linen to de-stain, toilets to unclog and left-overs to wrap and freeze.  Eid day is work.  Hard work.
Mum and I end the day with a cup of hot chai, lounging round the sofa watching TV.  Unfortunately for us, our day is bookended by news of an attempted suicide attack, this time on a Shia mosque in Islamabad, just hours away from where we live.  While the attempt was foiled, the potential fall-out of such an attack leaves me sad and angry.  But I have barely any energy to muster for a Facebook rant or discussion with a friend.  I switch off the TV and return to my tea and biscuits.
Shireen (Canada)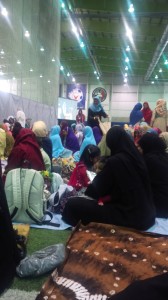 After a challenging Ramadan full of stresses and blessings, I was looking forward to enjoying a predictably uneventful Eid Salah, held in a huge sports complex – to my usual delight, on an indoor football pitch.
The khutbah had the usual contents: commentary on the mercies of Ramadan, requests for extra generosity for Masjid expansion projects, reminders for women to be covered in prayer (*yawn*), and the usual political allies of the Masjid board.
*Cue to screen: Grinning, wealthy, white woman in a draped pashmina*
"Assalamalaykam. Eid Faadir Mabrurak!" She exclaims carefully. I try not to discount her. Yet. She begins very loud: "I am the representative for your Riding. And- I – want- to – thank- you- and – say…"
I am fully rapt with attention. Not because she is saying anything of significance but because she is speaking English to us (and by us I mean 7000 Muslim-Canadians, mostly South Asian, many of whom have been settled for decades, if not born and educated here) as if we are hearing impaired. I worked in Settlement Services for a long time. Even my ESL teacher colleagues never patronized newcomer students by speaking in such a manner.
"I am Catholic and we have our special, spiritual time too!" [Mandatory #SharedValues insert.] She throws in precious "Allah, the Creator" gems. The crowd nods appreciatively. Babies cry around me. I am with them on this one.
She continues to explain to us how she is always helping us with Immigration and Citizenship concerns. We are lucky to be in Canada, a "tolerant and wonderful land of opportunity." She is honoured to work with us. (*cringe*)
Good thing my hijab is covering the steam coming from my ears.
How about recognizing that all people in Canada, other than First Nations, are immigrants? *crickets*
If the only relevant topic any politician can think to speak of is immigration, as opposed to, I don't know…urgencies in health care, (Primary Care physician shortage, ER wait times, inaccessibility to Specialists), education, job accessibility, issues of gender in the community, safety, then I would rather they. not. come. at. all.
I realize it's not the most hospitable of sentiments on Eid. But I always felt that Canada was far more tolerant without anyone reminding me how lucky I am to be here.
My body gets rigid and my Mom pats my arm. I can hear her wordlessly saying "Do this. Almost over!" Obviously, I have mentally composed a letter to her office. It's over soon enough.
We pray, I recover quickly, entertain myself with the chaos in the parking lot, and am able to forget about her nonsense. I go home drown my grumpiness in haleem, family and joy.
I entertain family and friends. The Polish lady helping me is enamoured with the celebration. She is lovely and keeps wishing us "Merry Christmas." Our Hindu neighbours join us, our Jamaican friend comes over and the Chinese neighbours walk by, wish us happy Eid and wave. I know how lucky I am, Alhumdullilah.
Woodturtle (Kuwait)
Eid for our small family usually means dressing in our finest, rushing to pray with thousands at an exhibition hall, patiently listening to elected officials remark on the amazing diversity of Canada's mosaic, and delighting the children with bouncy castles for a few hours before returning home or going back to work.
This year, we celebrated 'Eid in our pyjamas.
Many mosques in Kuwait start 'Eid prayers at about 5:15am in the morning. So most of the household just didn't bother going to bed — we stayed up all night chatting with extended family members, applying henna, praying Fajr and listening to several of the neighbourhood mosques chanting the takbirat, broadcast high above the city from minaret speakers. Then, bleary-eyed, we threw abayas over our pyjamas and carried the still sleeping children outside to pray in a rocky parking lot.
Carpets softened the makeshift musalla and a caterer distributed cold dates and water while the men sat in the open-air and women took their place in a special section behind them. To ensure "maximum privacy," the women's section was enclosed on three sides by a large beige tarp — which doesn't provide much of a view, but beats staring at a paved road.
This year our speaker system unfortunately cut out just as the khateeb brought up the topic of women. A few people took the silence that followed as a cue to wish everyone a happy 'Eid Mubarak, many waited patiently, and I peeked over the tarp to see what the men were up to. Later, the Hubby told me the sermon was very positive — telling everyone that women should be an essential part of the community, working and volunteering publicly. That women should be elevated, empowered and proud. A lovely sentiment, but pretty ironic without a game plan to change societal perceptions and when we're peeking from behind the tarp.
An irony I largely ignored in favour of experiencing a fun and privileged 'Eid day with friends and family in a city where the overwhelming majority celebrated as well. In Canada, the prayer itself seems to be the main event and I've always felt slighted at being told how empowered I am on 'Eid, while mosque officials put me in a basement every other day of the year.
We later breakfasted with family at an aunt's house — enjoying creamy and strong cooked tea, eating a sweet pasta dish called atriya and home made Yemeni bread, all lovingly cooked by the grandmothers in the family. Then we retuned home to sleep before finally dressing in new 'Eid clothes and spending the rest of the day party hopping, gift exchanging with the family and wandering the hallways of a flashy and trendy mall with thousands of other families enjoying the same.