Last week was Eid-ul-Fitr, and for that occasion the Saudi Gazette visited a care home for elderly women, where nothing is done for the residents to make this holiday special in any way. Chicago resident Halima Qancaro, originally from Ethiopia, is also spending the Eid on her own, and she shares her remarkable and tragic life story. In Egypt, the Eid has seen a rise in sexual harassment, with the harassers getting younger and younger. On the evening before the Eid festival, clashes between Chinese government forces and Muslim Uyghurs have killed three and wounded many more, including a 4-year-old girl.
Recent attacks on high profile Afghan women are undermining the campaign for women's rights in the country. Last week Afghan MP Fariba Ahmadi Karkar was abducted, while she was travelling with her children in the rural south of the country.
Tunisia's ruling party Ennahda is considering to change the laws in a way that could undermine gender equality in the country.
British Muslim women say that religious clothing and their faith are creating extra barriers in the workplace.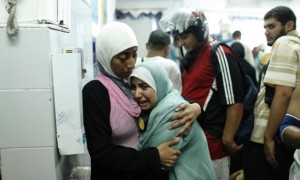 Clerics in Lucknow, India are divided on the question whether or not Muslim women can post pictures of themselves on social networking sites.
The Thomson Reuters Foundation features an article on a day in the life of Parul Begum, a Bangladeshi factory worker.
The only woman in the cabinet of new Iranian president Rohani is Elham Aminzadeh, who will be the vice president for legal affairs.
AFP features an article on Britain's Inclusive Mosque Initiative, which is currently a "nomadic mosque", where men and women share the same prayer space and women at times lead in prayer.
Afghan school girls complain about their school uniforms; not only is the black color very depressing, but the uniforms, consisting of a black dress, black pants and white headscarf, are stifling hot too.
The U.N. Human Rights Committee is urging Indonesia to stop allowing health workers to carry out female genital mutilation (FGM) on girls and babies.
The majority of teen pregnancies in Kyrgyzstan occur among girls who are married under Islamic law, but experts warn that pregnancies among more secular, urban teenage girls are on the rise, and that this could be partially prevented with sex education in schools.
Nina Siakhali Moradi was barred from taking up a position as a councilor in the Iranian city of Qazvin, because she was deemed to be too attractive.
Turkish prime minister Erdogan calls on Turkish women to at least "donate" three children to the nation.
A 14-year-old girl is the last victim in the recent surge of rape crimes in the Maldives.
Last Friday women were spotted at Somalia's Liido beach carrying axes for their protection, after sexual harassment on the beach has become a real problem over the last month.
An imam in Iowa, USA, has been charged with sex abuse and sexual exploitation, after he allegedly assaulted two women during a religious ceremony in their home.
Saudi columnist Halima Mudhaffar has launched an attack on advertisers in Saudi Arabia for "smudging" women's pictures in outdoor commercials.
Bosnian women are increasingly exploring new fields of employment, but old gender stereotypes still remain.
13-year-old Soreti Jibrael is the first female in hijab to umpire an Australian football game for the AFL.
The public dancing of Muslim women during a recent political rally has Islamic clerics in Malawi divided on whether or not Muslim women should be allowed to dance on political platforms.