Women battalions are fighting on both sides in the Syrian conflict and despite the fact that their numbers are relatively small, they serve an important purpose for both the opposition and the Assad regime.
Sudanese police have fired teargas at hundreds of protesting female students at Ahfad university in Omdurman last Monday. On Tuesday, the students continued their protests, but their numbers had dwindled. The protests are part of a series of demonstrations against the recent hike of fuel prices in the country.
Many Azerbaijani women face harassment in the workplace, but the lack of legal provision and protection make that many women will not report it and continue to suffer in silence.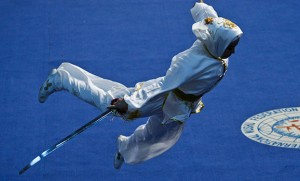 Since the Charter of Quebec Values has been introduced, veiled Muslim women have been increasingly targeted with insults in Quebec, Canada, a local group reports.
The law of modest dress in Sudan is not applied equally across social classes; the poor and (often non-Muslim) refugees are targeted in particular.
Last week the Afghan female-led political movement Wave of Change was unveiled by well-known Afghan politician Fawzia Koofi. The movement hopes to inspire women to run of leadership and become politically active.
An attempt by the government of Kerala state, India to ratify underage marriages that have already taken place, has triggered a debate on child marriages in the Muslim community.
According to a Saudi cleric, women who drive risk damaging their ovaries and may give birth to children with clinical problems. Fortunately, a Saudi doctor can assure us all that medical studies have proven that this is not true.
The Iranian parliament has passed a bill, which includes a clause that makes it possible for men to marry their adopted daughters, if they are over 13 years old.
Al-Monitor speaks to Youssef Spahi, who runs the Miss Egypt organization, about the rich history and future of beauty pageants in Egypt.
Syrian refugee children can now enroll in public schools in Jordan, but many girls will not attend, due to the costs of supplies, safety concerns and lack of transportation. Of the approx. 150,000 school-aged Syrian refugee children in Jordan, only about a quarter are currently enrolled in school.
A newly developed maternity saddle for donkeys makes it possible for Afghan women in remote areas to get the medical attention they need while pregnant.
Al Jazeera shares the reactions of several UK officials and organizations on the recent report on the sexual abuse of Asian and Muslim girls.
Two recent cases of "honor killings" in the West Bank, Palestine, have activists demanding a stronger stance of local politicians against these crimes.
Since a legislation passed in 2010, victims of domestic abuse in Kazakhstan have a better protection, but survivors find it often difficult to claim a fair legal settlement afterwards.
A program aimed at improving the lives of women in polygamous marriages by giving awards to "model husbands",  has drawn criticism in Malaysia.
Policewomen are on patrol in the Cairo, Egypt metro to protect women from sexual harassment; many women have complained that men attempt to ride the women-only carriages, especially later at night.
Al Jazeera features a photo essay on the women of Indian-administrated Kashmir.
Proposed reforms by Turkish PM Erdogan indicate that the ban on headscarves in state institutions will be lifted; headscarves will still be banned in the military and judiciary.
Many female Syrian refugees are finding themselves with increased responsibilities, and often have to assume nontraditional roles in order to provide and care for their families and themselves.
A 94-year-old Muslim woman has been killed by Buddhist mobs in Myanmar/Burma during a rampage in which many houses owned by Muslims were set on fire.
The Guardian shares the story of Noora Al Shami, a former child bride, who is now pushing for a stricter legislation to end child marriages in Yemen.
A Saudi woman has been arrested and accused of robbing five banks within three weeks in the USA.
The Palestinian Authority has legalized online dating in the West Bank, but only if it is for marriage purposes.
Approx. 8,000 Muslim women marched in Zamfara, Nigeria to demand the local government for help to get married.
Kasar Abdulla, an Iraqi Kurdish woman living in the USA, has been honored by president Obama for her work with immigrants and refugees.