It has been reported Boko Haram, the Islamist group predominantly active in Nigeria, forces girls to convert to Islam and join their group as "slave-wives."
According to a study, Muslim women are more likely to be subjected to Islamophobic attacks than Muslim men.
A group of housewives in the Neelum valley in Pakistani-administered Kashmir fights the activity of Islamic militants in the region, saying that it only attracts Indian fire.
Mauritanian rapper Leila Moulaye has been arrested after she appeared in a music video without her hijab.
A senior member of the Turkish AKP party has created a new flood of criticism and debate, after a remark that it was a "big mistake" to allow boys and girls to study together.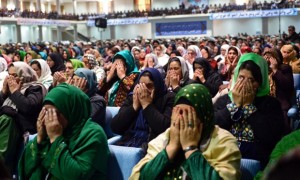 Once a female rebel actively involved in the Syrian conflict, Khowleh lives now the life of a refugee in Jordan and dreams of a moderate Syria.
After the arrest of many Muslim Brotherhood officials in Egypt and the removal of Mohammed Morsi as president, the female branch of the Muslim Brotherhood has taken on a more political role.
A Somali woman, who said in a recent online video interview that she was raped at gunpoint by her colleagues, has been arrested. The interviewing journalist has been arrested too.
HIV infections are on the rise in Iran, but life is especially hard for HIV-positive women, who face ignorance and isolation.
Authorities in Niger have announced that they have dismantled the trafficking ring thought to be guilty of the death of 92 people, predominantly women and children, earlier this year close to the Algerian border.
Security officials in Yemen have announced that they have arrested several suspected female Al-Qaeda militants during an operation in the south, which left four soldiers dead.
Indonesian female police officers are now allowed to wear the hijab on the job, after numerous requests by women to lift the ban on the headscarf.
Egyptian Yasmin Helal quit her engineering job to start her own organization Educate-Me, which focuses on improving the education of (poor) children and providing jobs and literacy classes for their mothers.
Four of the five Senegalese women arrested last week on charges of homosexuality have been freed, because of lack of evidence. The fifth is a minor and will be tried separately.
A Saudi survey suggests that a majority of Saudi's would favour the participation of local women in sports, both as spectators and as athletes.
A Turkish minister has said that the current ban on hijabs on military premises could be lifted.
The Minnesota chapter of Council on American-Islamic Relations (CAIR) has filed discrimination charges on behalf of a Muslim woman, who was physically escorted out of a retreat for women, allegedly because she was a (visible) Muslim.
A Kerala, India Islamic leader has said that the increasing education of Muslim women doesn't mean that they should enjoy more freedom.
The Tunisian footballer originally known as Fatima Maleh has announced that he has officially changed his sex from female to male, after a medical examination showed that his body had more masculine features and male hormone levels. He now goes by Mohammad Ali.
In Pakistan, a man murdered two sisters-in-law, allegedly because he was jealous his brothers were married and he was not. After he had asked the women if they could find him a wife, they replied that he would first have to get a job and become more "mature," after which he shot them.