A young Saudi woman is fighting to able to remain in Yemen, after she entered the country illegally, defying family and tradition, to be with the (Yemeni) man she fell in love with.
According to a report by Amnesty International, most Indonesian (predominantly female) domestic workers in Hong Kong are exploited and do not receive much protection from either of the governments involved.
The Chinese authorities have started a new campaign to convince veiled Uyghur women of the joy of uncovering their faces; critics warn that this could result in yet another violent backlash.
A group of Palestinian women are holding sit-ins in a park in Gaza, calling for the end of the division between Hamas and Fatah.
A young French Muslim woman appeared in the European Court of Human Rights to challenge the current ban on face-veils in France and defending her choice to wear one.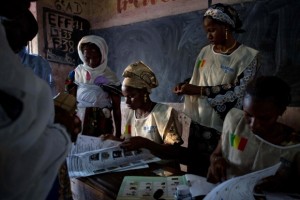 The 21 women who have been arrested last month during a pro-Morsi demonstration in Alexandria, Egypt have been sentenced to 11 years in prison. Seven of the women are under 18 years of age.
Human Rights Watch speaks of widespread harassment and exploitation of Syrian refugee women in Lebanon.
Two years after the death of former president Ghaddafi, Libyan women still lack access to political participation and basic rights.
Inspectors have visited a Quebec daycare, though they insist the visit was not related to a controversial picture that shows some of the employees in face veils taking the children outside. The couple running the daycare are worried about their safety and that of the children.
A young Afghan couple has been killed, while attempting to elope. It is said that local elders have ordered the killing of the couple.
The police force of Edmonton, Canada, is set to reveal their prototype of the official hijab that Muslim police officers could wear on duty.
A Malaysian Muslim woman living in the USA denies that she has converted to Christianity, after an article went viral on the social media in which she allegedly shared how she embraced Christianity.
Sexual abuse has sky-rocketed in Syria since the beginning of the conflict; women in Syrian Kurdistan are getting together to help abused women and change local attitudes.
Tajikistan has the highest maternal death rate in Central Asia. The high rate is partly blamed on the prevalence of home births without a skilled attendant, especially in the poorer, rural areas.
An online video by young Egyptians about the sexual repression in their country has gone viral.
The controversial Thomson Reuters Foundation poll on the status of women in Arab countries has stirred a heated debate in Tunisia.
An Islamic charity is to open a third hostel for homeless Muslim women in the UK, where there is said to be a high demand for these kind of shelters.
One of the women who was living in slavery in London, UK, has been identified as Siti Aishah, a Malaysian national who is now 69 years old. She hasn't been in contact with her family since approx. 1968.
Syrian refugee women in Jordan are working on an adaptation of the the ancient play The Trojan Women by Euripides, using their own stories and experiences.
Manar Idriss, a researcher for Amnesty International, reports on the plight of Darfuri female refugees, who live their lives in constant terror and fear.
The different religious sects in Lebanon each dictate their own rulings on matters like inheritance, marriage, divorce and custody; a national draft law on domestic violence, which would help many women, has been stalled since the summer, due to the instability in the country.
An estimated 56 women have been killed in 2013 so far for giving birth to daughters in Pakistan.
RFE/RL features the harrowing story of Afghan Akhtara, who was attacked with acid by a man she refused to marry, after he killed her husband.
In a school in Osun State, Nigeria teachers, students and the prinicipal were attacked and beaten, after the principal allegedly stopped some Muslim students from wearing the hijab on school premises.
A Muslim woman in Australia says she was forced to resign after she started wearing the hijab on the job last October.
The Herald Scotland features an article on what it is like to be a Muslim woman in Scotland.
Due to the stigma surrounding women and divorce in the Gaza Strip, it is generally hard for divorcees to remarry and they are more likely to face abuse and (sexual) harassment, especially in the work place.
Al Jazeera features Kismet, a documentary on how Turkish soap opera's have impacted women in the Arab world and beyond.
According to an Afghan official, death by stoning for adulterers will be part of the Afghan law.
Nigerian newspaper Leadership interviews Aishah Ajibola Obabiyi, who won the World Muslimah competition earlier this year.
Al-Monitor looks into the social politics of weddings in Yemen.
A French court has backed the decision by a private daycare provider to fire one of its employees, because of her hijab.
Every week about a dozen Tajik women urge the Tajik migration service to get their husbands deported back to Tajikistan. Over a million Tajiks are working in Russia, but not all of them are sending money back to their families, with some even starting new lives and families in Russia.
The BBC speaks to veiled Egyptian rapper Mayam Mahmoud.
A Muslim woman in the USA felt she was forced to quit when she started wearing the headscarf to work, despite having asked (and being given) permission first.