Human Rights Watch has spoken out about the discriminatory rules imposed on women by certain Syrian armed opposition groups.
After young Australian couple had been killed in Syria earlier this week, many stories have been coming up about Amira Karroum, the woman involved, stressing her "recent" shift to a more "radical" Islam and her alleged verbal abuse of the neighbours.
Syrian women have requested a large role during the peace negotiations expected to start next week.
The BBC shares the story of Spozhmai, the Afghan girl, who was detained for wearing suicide vest earlier this month.
A video in which a 7-year-old Saudi girl is sexually harassed by a man has gone viral and has many calling for more awareness about sexual harassment, especially among parents who can then better educate their children.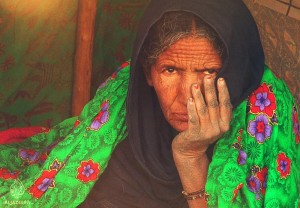 According to a recent study, American mosques are doing a sub par job at including women, not only when it comes to space, but inclusion in leadership too.
Last Tuesday Egypt's referendum on the new constitution kicked off. Women's rights were an important topic of the referendum , though many women activists remain critical of the so-called amendments of the constitution. At time of writing, it was reported that the vast majority of the Egyptian voters voted for the constitution, though several opposition groups, such as the Muslim Brotherhood, have boycotted the referendum.
A political expert in Indonesia speaks about the uphill battle Indonesian women still face in politics, despite efforts to increase the female participation.
The Guardian speaks to several, predominantly female, displaced people in Mali, who are hesitant to return to their homes a year after the conflict in northern Mali.
The husband of one of the Uyghur women forced to undergo an abortion recently shares the gruesome details of the procedure.
When the family of 14-year-old Hanifa, Syrian refugees in Lebanon, couldn't afford to pay the rent to their 44-year-old Lebanese landlord, he suggested that Hanifa would become his second wife instead. She has agreed.
In rural Mauritania, for decades men have left their villages to find work elsewhere, but this phenomenon is starting to have social implications, such as a rise in divorce and abandonment rates and lower rates of school attendance among children.
A Muslim woman in Montreal, Canada, who was attacked in the metro system because of her hijab a while ago, has called for a quiet day of protest by wearing religious symbols last Monday, a day before the hearings on the secular charter at Quebec's national assembly were scheduled to start.
Despite official statistics more Turks are finding their partners online, but social taboos surrounding online dating and matchmaking make that many will not admit to their family and friends where and how they actually met.
Malaysian Rahinah Ibrahim has won her court case against the US government concerning her being on the no-fly list and US student visa denial.
Womensenews.org features the stories of several Syrian refugee women in the Free Syrian Army in a video, which is the first of three videos on this topic. In the second video a Syrian refugee woman shares her story about her work with the Free Syrian Army, and the loss of her husband.
The killing of 10-year-old servant girl Iram in Pakistan, who was admittedly beaten to death by her employers, has shocked the nation.
According to a Jordanian lawmaker, soon Jordanian women married to foreigners will be able to transfer full civil rights to their husbands and children. The Jordanian nationality, however, can still not be passed on to the spouses and children of Jordanian women.
Kazakh MPs have spoken out against the legalisation of polygamy (in both forms) in the country.
As Yemen becomes more dependent on female security forces, especially in operations involving alleged female criminals and terrorists, the demand for female recruits is on the rise.
The Guardian features the story of former Afghan MP Noorzia Atmar, who fled her country and currently remains at an undisclosed location, fearing for her life.
Based on preliminary electoral lists for the upcoming municipal elections released by the major political parties in Turkey, female candidates are largely absent, with an exception of the Kurdish Peace and Democracy Party (BDP).
Saudi women have welcomed the decision by the government to suspend the current electronic system to notify the male guardians about the international travel of women. An altered system is now being discussed, but women activists remain concerned.
As fashionable hijabs and so-called "Islamic fashion" are taking off in Indonesia, so are fashion bloggers.
A piece on Eurasianet.org focuses on the problem of street harassment aimed at women in Azerbaijan.
Libyan activist Amal Al-Taher El-Hajj has put herself forward as a candidate to succeed current Prime Minister Ali Zeidan.
Slowly but surely, artists are returning to Pakistan's Khyber Pakhtunkhwa province now that the influence of Taliban militants is waning.
A mother and son in the USA have come together to fight poverty and promote education in Somalia's camps by empowering mothers by giving them small micro loans through which they can start up small businesses.
A series of pictures shows the different aspects of a traditional Bulgarian Muslim wedding in Ribnovo, which only take place during the winter months.
Marium Mukhtiar talks to the BBC about becoming a female fighter pilot in Pakistan.
The love story between the Saudi woman and the Yemeni migrant worker continues as a Yemeni court has sent a letter to the family of the Saudi woman, asking them to either come to court or depute somebody to make a marriage between the young couple possible.
Al-Monitor speaks to Turkish author Elif Shafak about her new book and current affairs in Turkey.
The Toronto, Canada woman who is the complainant in a sexual assault case, and has been in several legal battles about her right to wear a face veil in the court room, has said that she will remove the niqab when testifying.
Jamila Bayaz is the first female district police chief in Afghanistan.