Russian authorities are hunting for potential female suicide bombers in and around Sochi; security forces say that they have killed potential "black widow" Zaira Alieva during an operation on Saturday, which left seven dead. The Olympic Games are scheduled to start on February 7.
It is estimated that one in nine Pakistani women will have breast cancer during her lifetime, but conservative values and cultural taboos make fighting the disease extremely challenging.
The Burma/Myanmar government has denied that a Buddhist mob has attacked and killed at least a dozen Muslim women and children in the village of Du Char Yar Tan.
Somali women have reacted angrily to the disappointing appointment of only two women in the 55-member Somali cabinet, appointed by prime minister Abdiweli.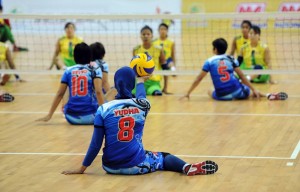 Morocco has finally amended the controversial article in the penal code that allowed a rapist to marry his victim to escape punishment.
Despite a 25% quota for women in Iraqi parliament, when it comes to the higher positions within the government, women remain largely absent.
Women in pastoralist communities in Ethiopia, such as in the arid Somali region, have a very limited access to birth control, because of the nomadic lifestyle.
This January a 13-year-old child bride and mother of one was killed in Turkey, which has lead to more scrutiny of the current government's family and marriage policies.
The Islamic State of Iraq and al-Sham (ISIS) has banned music and imposed the face veil in the Syrian province of Raqqa, after they gained the upper hand there earlier this month.
Lebanese 18-year-old Maria al-Jawhari had survived three recent bomb attacks, and she said that she doubted she would survive a fourth. She died last Tuesday in a bomb attack in Beirut, Lebanon.
Some Muslim women have been going online to find a husband among those foreigners who are currently fighting in Syria, believing that there special rewards for those married to so-called "mujahids."
Thoraya Obaid, a Saudi Shura member, has said that the role of women in Saudi Arabia is not progressing enough.
Three Lebanese women share their stories about their decision to take off the headscarf, after they had been forced to wear these from an early age by their families.
Human Rights Watch calls on the EU to take action when it comes to women's rights in Afghanistan.
The body of a Yemeni woman who died in an attack in December 2013 has been denied burial in a graveyard for martyrs by officials; the Martyrs' Cemetery does not contain graves of women, at all.
Hana al-Zaanin has become the first woman in Gaza to give birth after having been inseminated with sperm smuggled out of the prison where her husband is incarcerated.
The new constitution in Tunisia does ensure a certain equality between men and women, but the wording remains vague and open to interpretation, and critics say that there are still gaps.
Activists are calling on Mauritania to ban the practice of force-feeding girls to fatten them up for marriage.
A conservative Iranian clergyman has issued a statement in which he warns Iranian women not to give up the chador, which provides, according to him, the best coverage of the female body. Most Iranians, however, are not very supportive of the (black) chador and consider it mainly something for elderly women.
The topic of bride kidnapping has let to a heated debate in Kazakhstan's parliament, with some lawmakers arguing that it is a "national tradition" and that the vast majority of the women involved actually wish to be abducted.
Female refugees and migrants in Morocco are being employed by a charity making Moroccan caftans for a high-end market.
It has been reported that annually around 100 people in Sydney, Australia convert to Islam; these are predominantly women, who, according to unnamed experts, are more likely to adhere to a more extremist interpretation.
At the last moment, plans for Masoumeh Ebtekar to address Friday prayers in Tehran, Iran on the topic of air pollution have been cancelled. It is rare that a woman addresses the Friday prayers in Tehran, which is considered an important platform to draw attention to and discuss issues that affect Iran and the Iranian people.
The search continues for Pakistani-born Nida Naseer in the UK; the 18-year-old has not been seen since December 28, 2013.
A Nigerian Muslim cleric has been charged for allegedly assaulting a woman for not wearing hijab.
British lawyer Shehneela Ahmed has become the first registered female Muslim football agent in the UK.