February 6 was the International Day of Zero Tolerance for Female Genital Mutilation. The UN called for a complete end of genital mutilation/cutting (FGM/C). UNICEF reports that more women are taking a stand against FGM in Sudan, and this has resulted in a decrease in cases of FGM over the last years. Fourteen communities in Mali representing different ethnic groups have committed themselves during an event in the capital Bamako to the eradication of FGM, and early and forced marriages. A religious leader in the Maldives however has endorsed the practice of female genital mutilation, saying it is obligatory in Islam. A reconstructive surgery on the genitalia of mutilated women in Senegal hopes to alleviate much of the discomfort and "re-surface" the clitoris, although it would not work on all cases.
Last week in Australia, an underage marriage was uncovered, when the couple, a now 13-year-old girl and 26-year-old man tried to apply for spousal benefits. The couple got "married" in January this year with the blessing of the father of the girl, who says he doesn't see anything wrong with the union and her refers to his daughter as a "strong-willed woman in love." The husband, a Lebanese student, has been charged with over two dozen sex offences; the imam charged for overseeing the marriage with a minor has been sacked from his mosque.
An estimated 40% of Turkish women have suffered some sort of physical abuse during their lives, but shelters for victims of domestic violence remain few and far between.
An Indian woman has received a complaint against her by the local district magistrate for converting to Islam from Hinduism last year, without seeking prior permission to do so.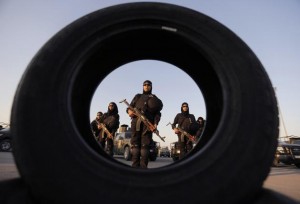 Human Rights Watch calls on Somalia's authorities to protect, and not arrest, rape victims and suggests a five point plan to do so.
A growing share of underage marriage licenses in Jordan are going to Syrian refugee girls; question though is whether this a completely new phenomenon fueled by the conflict, or that early marriage was already a common practice among these Syrians prior to the conflict.
Al Jazeera features a documentary on a girl turning 15 in Gaza, and how this will change her life.
A Saudi family says that their daughter, a female student at a local university, has died of heart problems, because medics could not reach her on time, due to the strict gender segregation on campus.
A Radio Australia program focuses on Islamic higher education and gender equality in Indonesia.
Though the percentage of female smokers in Pakistan remains small compared to male smokers, the last three years have seen an increase in women who smoke.
Moroccan photographer Hassan Hajjaj features female bikers in his new series 'Kesh Angels.
The overall enrolment of girls in education in Afghanistan has risen, but many issues remain.
Turkish MP Safak Pavey speaks in an interview about her frustration about her country's obsession with female bodies.
Hundreds of civilians have been evacuated from Homs, Syria; predominantly women, children and the elderly.
Indonesia's first female governor has been arrested and faces charges of bribery and extortion; the latest in a series of scandals involving the current coalition.
An estimated 250,000 Iranian women have abortions annually; the vast majority are "illegal" abortions, which are often not without serious health risks.
Saudi women do not longer need male "identifiers" at court hearings; identity cards will now suffice.
The BBC features a story on two women, one Jewish and one Muslim, who consider themselves sisters in cancer.
Social networking sites are mentioned as a main cause for divorce among young couples in Gaza.
A village council in Rajasthan, India, has forbidden Muslim women to use mobile phones and ordered them to only go to public places accompanied with a male relative.
Attempts to reform Morocco's inheritance law has been met with opposition by Islamic scholars and citizens alike; currently the law favours men over women when it comes to inheritance.
A young Muslim woman in the Netherlands has filed a report of discrimination with the police after being refused an internship, because she intends to wear the hijab on the job.
In the USA the trial against an Islamic leader, who allegedly sexually abused a mother and daughter during a healing ritual, is on the way.
A suicide bomber has blown himself up in the home of a pro-government tribal elder in Peshawar, Pakistan, killing four women.
Hundreds of women from former Soviet states live in the Gaza strip as the spouse of a Palestinian man, many have children and have lived in Gaza for decades, but the isolation and difficulties of life in Gaza have a huge impact on the well being of these women.
American fencer Ibtihaj Muhammad tells students at an all-female school in Dakar, Senegal about her experiences as an African-American Muslim fencer.
A married Muslim woman in Australia has charged a man from her local mosque for rape, after she said he forced her to have sex with him, while she helped him finding a spouse.
Associated Press profiles Palestinian high tech entrepreneur Abeer Abu Ghaith.
On the second day of her new employment, a US woman was sent home because of her hijab, and subsequently fired.