In a new report by Human Rights Watch, Iraq gets slammed for its treatment of its female prisoners, who are often subjected to torture, including sexual abuse.
A relatively small change in Afghan law will have huge consequences for victims of domestic violence, as it will enable men to abuse their female family members without fear of punishment. Activists call on Afghan president Karzai to veto the law.
A Malaysian man has been sentenced to 12 years in jail for raping a 12-year-old girl, whom he subsequently married.
The Al-Qaeda affiliated Islamic State of Iraq and Syria (ISIS) has formed two all-female battalions in the city of Raqqa, in northern Syria.
A Montreal, Canada woman died last week when her scarf got caught in the subway escalator. A preliminary report suggests that she died of a traumatic brain injury and not because of strangling, as a police report suggested earlier.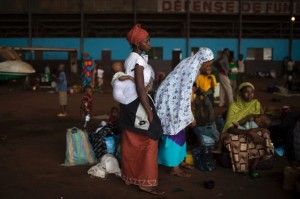 Tajikistan is looking to reverse a ruling that banned women from going to the mosque for the last 10 years.
Despite the election of Iranian president Rouhani last year, women continue to struggle for equality, especially in the labour market, where there are now new restrictions on women.
Three generations of women in one British Somali family speak out about the practice of Female Genital Mutilation (FGM).
Sexual harassment is still on the rise in Egypt and many attempts to fight this phenomenon have been unsuccessful so far; now Egyptian women are turning to martial arts in order to defend themselves.
Qantara.de speaks to Saudi author Raja Alem about her work and the Saudi literary scene.
On January 30 a group of female law enforcement officials staged a protest in Somalia accusing the Somali Police Department of trying to dismantle the Somali female police system.
An Egyptian cleric has issued a fatwa that permits the husbands of imprisoned female Muslim Brotherhood members to divorce their wives.
IWPR speaks to several Syrian (predominantly female) refugees in Jordan about their struggles to integrate in a society that generally views them with hostility.
According to a Bangladeshi survey, approximately 87 percent of all Bangladeshi women
experience some sort of domestic violence
during their lives.
Begging is a growing phenomenon in the Iraqi city of Basra, where the majority of beggars are veiled women, who do all kind things to get money.
Six men have been sentenced in Kohistan, Pakistan for the murder of three brothers, who related to three men who were seen in a video dancing and chatting at a wedding with women, sisters of those who are sentenced. The women are thought to have been murdered too, though that has been denied by local elders and the bodies have never been found.
Despite the fact that a law amendment on travel restrictions for unmarried adult women in Iran was revoked late last year, married women still need permission from their spouses in order to be allowed to travel abroad, even if they have been separated or are in the process of divorce.
Muslim lawmakers in the Philippines are pushing for a law that would protect the right to wear the hijab, everywhere and at any time.
The BBC features yet another article on the unknown whereabouts of Samantha Lewthwaite, the woman who has been linked to several terrorist activities.
Veiled female drivers in Bahrain can be asked to remove their face veil in front of male police officers, according to an amendment to Bahraini traffic law.
A former employee of a Boston, USA hospital says she was fired because she refused the flue shot, which contains a small amount of pork gelatine. She is suing the hospital.
In an interview, Afghan businesswoman Hassina Sherjan talks about her hopes for the country.
Many Tajik girls and women face online harassment on social media sites, as many fellow Tajiks believes that "good girls" do not use social media.
Nazia Parveen is a Pakistani competitive rock climber, but pursuing a sport that is not accepted by many as proper for a woman has its challenges.
The protest of dozens of Somali women in the UK has stalled the adoption process of a young girl of Somali descent by a lesbian couple.
A Florida, USA teenager says that she has been subjected to religious bullying in her school ever since she started wearing the hijab in December of 2013.
Maty Mint Hamady has been elected to become the first female mayor of Mauritania's capital Nouakchott.
A 12-year-old girl in Xanthi, Greece was sent out of her class by her Islamic teacher and mocked by her fellow students for not knowing (a part of the) Quran by heart. Her father is taking action against the teacher.
A school girl in Kenya has quit school, as she was not permitted to wear the hijab on school premises.