"This is a man adored by Egyptians. And if he wants to take four wives, we're at his service." The man in question is none other than the Egyptian Minister of Defense, General Abd ElFattah Al-Sisi (promoted recently to Field Marshal), and the "we" in "we're at his service" refers to Egyptian women, according to an open proposal that was declared by the Egyptian columnist Ghada Sherif in an article last July, a few days after the call by the General for a national "mandate" to crack down on "terrorism." She even goes as far as saying that "if he wants us as his Harem, this is not too much for him, swear to God!" Sherif is not the only woman who has shown her unconditional love for Sisi. Egyptian online media outlets, newspapers and TV have flooded us since the overthrow of President Morsi with shots of women kissing the picture of the General.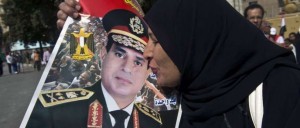 However, Sisi is not the only military figure winning women's hearts in Egypt. Sherif did not forget to mention that "we also adore his military spokesperson," referring to the Colonel Ahmed Mohamed Ali, whose sex appeal was not denied by the General Sisi himself, who affirmed in a leaked video that "the spokesperson is important because he attracts women." The Colonel's fan base is large: one million likes for his official Facebook page, along with couple of other pages created by his fans.
We still have room for more love. It's all-that-is-military love fever! Where else on earth would you see bridesmaids wear military-themed gowns? What about women's Sisi pajamas?
Finally the nation has found its Savior; at least, that's what the actress Lubna Abdel Aziz wrote in an article last September:
"Let the deaf, dumb and blind media and governments of the West say what they will, Al-Sisi submitted to the will of 33 million Egyptians in the street and 50 million in their homes, crying for salvation. The people led — Al-Sisi followed. What the West cannot comprehend is the warm affinity between people and army in Egypt, which has endured for centuries".
This is exactly what the media has played on since last June: "the warm affinity between people and army in Egypt." And who is better than women to emphasize on this message? The culmination point of this media discourse was in the latest constitutional referendum this past January. The supposedly political procedure was depicted as a military love parade and not a referendum. Military and police officers who were in the poll stations to secure them were hugged, showered by kisses and were given flowers. Young ladies rushed to take photos with them. Even the famous actress Sherihan tapped an officer on the shoulder.
These are the women that the media want to present to the people as part of a systematic approach to extirpate any notion that what happened in June/July 2013 was a military coup instead of a people's uprising. All the images above are "true," but they are not the whole truth.
Speaking of the "warm affinity" that apparently endured for centuries, let us go back in time – and not in centuries, but only two years. It was December 2011 when the
military police stormed Tahrir Square
, and at one of the corners of the vast square, a group of few soldiers gathered around a half-naked young woman, dragging and beating her savagely. How "warm" was this? Is brutal beating a new form of "warm affinity"?
But this is supposed to be something from the past. The media keeps telling us that we are in a new era after June 30th, an era that seems promising for Egyptian women to the extent that some won't miss an occasion to celebrate and declare their affection for the army. No one wants to talk about incidents like this one reported by Almonitor, and whose summary reads: "On the anniversary of Egypt's Day of Rage, an Egyptian woman is subjected to the same police brutality her fellow citizens revolted against three years ago." The article covers an attack on a female Egyptian journalist in Tahrir Square on the eve of January 28th of this year. This journalist was beaten and sexually assaulted by people in the street. Cynically, the one who incited the attack was a female police officer, a member of a special unit that was formed last year "to combat harassment and violence against women."
"A victory for women's rights": that's how the governmental entity "Egyptian Center for Women's Rights" described the new constitution. Article 11 was praised in particular: "The state commits to the protection of women against all forms of violence." It's an article worthy of praise only when put in action; only when violations like virginity tests on detained women by police and army officers stop and are criminalized by the authorities. Buzzfeed spoke to four women about the virginity tests that they were forcibly subjected to while under detention in the last four months. One of them said: "I thought the tests were history. I thought we had left them behind in the days of Mubarak." In Egypt, history is repeating itself. In June 2011, Amnesty International declared that 17 women in Tahrir had been detained and forced to submit to virginity tests on March 9th. At the time, Amnesty had asked asked the SCAF, then the ruling entity, to investigate the incident, but received no reply. It was only three months after the fact that Amnesty reported that Sisi, then the military intelligence chief, had admitted that "'virginity tests' had been carried out on female detainees in Tahrir in March 2011 to "protect" the army against possible allegations of rape, but that such forced tests would not be carried out again.  He also added that army would avoid detaining women in the future." No wonder virginity tests are still here, when the man that saw it as a tool to protect the army is now the one in charge. No wonder that the media turns a blind eye to the torture and sexual abuse that twelve imprisoned female students are going through.
These are faces that you never meet in the media.