Al Jazeera profiles Tuareg singer Fatimata Oumarr.
Christian and Muslim girls from northern Nigeria talk about the risks they face in attending school.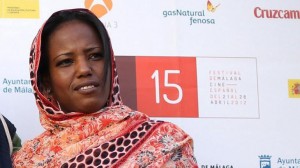 A Uyghur woman living in the United States pays tribute to her father, who is currently imprisoned in China.
Syria Deeply interviews a Damascus woman who runs an orphanage about the increasing number of children orphaned and abandoned because of the war in Syria.
A new IRIN short film called The Sins of the Fathers features the work of a shelter for abused women in Afghanistan.
Qantara.de reviews the new CD "Soutak" by Sahrawi singer Aziza Brahim.
Headscarf bans prevent some Tajik women and girls from enrolling in university.
Women in Pakistan's province of Baluchistan protest against the shutting down of schools in response to violence and threats from an extremist group, particularly targeting girls' education.
A sensationalist campaign ad for a Czech candidate for the European Parliament features the candidate wearing a chador and warning about the dangers of the "Islamization of Europe."
Xinjiang police open fire at a Uyghur protest against restrictions on "Islamic dress"; people fear some protesters have been killed.
A group of transgender women in Malaysia have launched a lawsuit with the goal of changing national laws that criminalise, discriminate against, and deny the existence of transgender people.
The Islamophobia Studies Journal is seeking academic articles for an upcoming issue on Islamophobia, gender, sexuality, and racism.