Editor's note: Anneke is taking a break from the Friday Links at the moment because she has just given birth to her third child. We wish her and her family all the best, and I apologise that the links will not be nearly as extensive in Anneke's absence!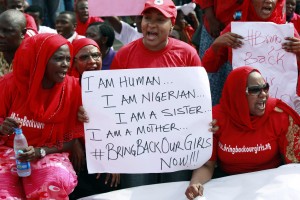 The situation of the more than 200 girls who have been kidnapped by Boko Haram in Nigeria has gotten increasing attention this week, both in mainstream media and on social media. Many have focused on condemning the kidnapping and enslavement of these schoolgirls, while others have critiqued the media response and raised questions about the effectiveness of internet hashtag campaigns in addressing the issue. May God protect these girls and bring them to freedom and safety.
A Montreal Muslim woman has launched a defamation lawsuit against two individuals and a website because of things said about her after she spoke out publicly against the Quebec Charter.
The Telegraph draws attention to Islamophobic attacks and microaggressions faced by Muslim women in the UK.
Anna Stamou is running to be the first Muslim woman to represent Greece in the European Union elections later this month. Sabiha Suleiman, a Greek woman who is Muslim and Roma, was "expelled" from the list of candidates for her party, despite her previous work on behalf of women and children in Muslim Roma communities.
A recent report about Arab TV indicates that women who work are often portrayed as opportunistic, selfish, and superficial.
An Al-Monitor report on atheism in Egypt found that women were unwilling to be interviewed, and suggests that this reflects the potential for harsher consequences for women who identify publicly as atheists.
Women in southern Thailand are experiencing increasing hardships, including physical and mental health problems as well as a lack of access to employment and social services, because of fighting between the government and Muslim separatist groups.
A PolicyMic piece argues that activism about LGBT issues in response to Brunei's recently-introduced "sharia" criminal code should not draw attention away from the code's serious implications for women.
The detention of activist Leyla Yunus has prompted international concerns about restrictions on human rights in Azerbaijan.
Some Iranian women have been taking and posting online photos of brief moments without their headscarves.