Last weekend marked one of the major holidays on the Islamic calendar, Eid ul-Adha. The Egyptian women's council offered a hotline for females to report sexual assault during the four days of the holiday, during which harassment usually is more prevalent. One teenager was killed defending women from  sexual harassment in Egypt last Sunday. Over 200 incidents were reported.
One woman tells CNN why she joined ISIS in Syria and why she defected. Meanwhile, Malaysian authorities have confirmed that a female doctor has joined ISIS in Syria, and Kyrgyz authorities have said the same about a Kyrgyz female medical student. On
On the other side, a female Kurdish fighter has detonated herself while attacking ISIS militants last Sunday in the battle for the Syrian town of Kobani.
Australia has seen multiple attacks on Muslim women lately. Two women were attacked while driving in Newcastle, with witnesses coming to their aid. In Brisbane several attacks on Muslim women include a threat to a Muslim woman to set her headscarf on fire. One Muslim woman in Canberra says that she has stopped wearing her headscarf, as she fears an attack otherwise.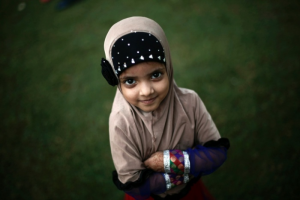 At least five Bangladeshi women have been arrested in India for allegedly being members of a female hit squad.
After years of severe domestic abuse, which left her mutilated, Afghan Sadia is fighting for justice and a divorce. Her case is just one of many in Afghanistan, where women's issues remain a top priority.
Global Voices Online features an item on the (in)visibility of Central Asia's first ladies.
An estimated 40,000 pregnant displaced women in the Pakistani Khyber Pakhtunkhwa province are at risk, due to a lack of maternal health care.
Gambian youth attending a summit on female genital mutilation (FGM), were made aware of the fact that this practice doesn't have any basis in Islam, and that women and girls are right to refuse to undergo the mutilation.
Many Muslim women in France have turned to home work opportunities, especially those that involve e-trade, due to the headscarf ban.
In Norway, Somali-born Safia Abdi Haase has received the medal of the order of St. Olav for her work to eradicate female genital mutilation (FGM).
Sudanese activist Amera Osman Hamed speaks about the unequality of Sudan's so-called morality laws, and how they target women in particular.
A victim of domestic abuse in the Central American country of Belize says she was denied access to court to get a restraining order against her husband, because of her headscarf.
Monday morning two women in Darfur's East Jebel Marra region have been raped, while they were out visiting relatives to celebrate the Eid. Later this week two women in southern Darfur have been raped for six hours, when they were tending their farm land.
The Czech Interior Ministry has decided that the spa town of Teplice cannot ban people from covering their faces; the ban would be aimed particularly at Arab clients of the spa.
Five Afghan men have been hanged earlier this week for gang-raping four women; human rights groups condemn the execution and criticize the trial.
A Denver, USA suburb says it will now allow burkini's in local pools, after a Muslim woman was turned away last weekend for wearing a swimsuit that includes pants, long sleeves and a hoodie.