Last week the intense battle against ISIS in the Syrian town of Kobane made headlines everywhere. Mayssa Abdo, a female Kurdish fighter, is said to lead the battle of the Kurdish troops against the Islamic State. Another Kurdish fighter, Rehana, is said to have killed over a hundred ISIS fighters single handedly in Kobane. Kurdish Shirine had never imagined she would join the Kurdish troops, but the war changed everything for her and now she vows to either be victorious or become a martyr.
Teen activist Malala Yousafzai is the co-winner of the 2014 Nobel Peace Prize. While many see this prize as an encouraging reward for a remarkable girl, others are critical of Yousafzai winning this award, including some in her hometown. Some articles draw the attention to Nabila Rehman, another young Pakistani activist, who has been vocal about the drone attacks and how these have affected her and her family, but hasn't received half of the attention Malala Yousafzai enjoys.
Human Rights Watch reports that Sudanese security forces have assaulted and sexually abused up to 70 female students during a raid on a dormitory earlier this month. Many female students, mainly from Darfur, are still being detained and lawyers are calling for their release.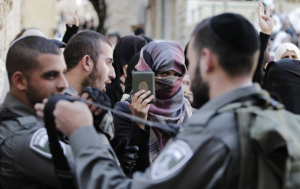 Bangladesh is mulling to lower the age of marriage for girls to 16, which would put many girls at risk.
Boko Haram, the group terrorizing northern Nigeria, is now using women as suicide bombers, though it remains unclear who these women and girls are. Meanwhile many families are still waiting for their girls to return after the Chibok school kidnapping.
Hindu right-wing groups are running a campaign against what they say is a "love jihad," in which Muslims conspire to lure Hindu girls to convert to Islam in the name of love. This week however, one Hindu woman has retracted her statement that she was sexually abused and forced to convert to Islam.
It has been said that the two young Austrian girls who joined ISIS earlier this year, have changed their minds and want to return back home, which would be very complicated, as Austrian law forbids them to return if they were involved in a foreign war.
Due to the economic downturn many Egyptian women, especially from the poorer strata of society, find themselves the sole breadwinners of their families, but as many of these women work in the informal sector they do not have work protections and/or benefits.
Some female Afghan journalists are wearing the burqa in public again; not only for security reasons, but they say that as well-known female journalists they suffer daily harassment.
While fertility rates are soaring in the African country of Niger, many families struggle to feed their many children and malnourishment is widespread. Family planning remains a controversial topic however.
The Somali band Waayaha Cusub (The New Dawn) have asked for asylum in the Netherlands, after the lead singer Falis Abdi Mohamud says that her refugee status and that of her band members have been revoked in Kenya. As the band has been critical of Al Shabab, they fear for their lives, if they would have to return to Somalia.
Despite increased laws and policies that aim to prevent temporary "prostitution marriages" between young Indian girls and foreign men, predominantly from the Arab Gulf, the practice still continues in the city of Hyderabad.
Two Kyrgyz women share their horrid stories as the survivors of sex trafficking.
Nine-year-old Syrian Rasha is the star of a satirical scripted show on Youtube, which is critical of the Assad regime. Rasha and her family still live in the Syrian town of Aleppo.
Maternal deaths are once again on the rise in Sierra Leone and Liberia, due to the Ebola outbreak. Fatumatta Fofane died while searching for medical when she went into labor, after many hospitals were closed by the government as a result of mass health worker deaths.
In one Indonesian district government officials will now have to pay a relatively large fee if they want to marry a second wife.
An Afghan school for girls in Kandahar faces closure as funds have dried up after the foreign military has withdrawn from Afghanistan.
A swimming course aimed at Muslim women in the northern Italian town of Sesto, has sparked outrage from a local right-wing political party.
An eight-year-old Kosovo boy has been returned to his mother, after he was taken by his father to join the rebels in Syria earlier this year. The mother had started a social media campaign to bring her son back a few months ago.
Mat & Minah is a new Malaysian dating app that aims to bring Muslim singles together.