Videos continue to emerge online of Central Asian migrant workers humiliated by their countrymen for allegedly being prostitutes and a shame for their nation.
Militants belonging to Al Shabaab in Somalia have killed two Somali policewomen; in return a policeman has killed five women belonging to the group who were held by Somali police.
The capital of China's Xinjiang province, Urumqi has banned the Islamic face veil, in what is said to be an attempt to curb terrorism.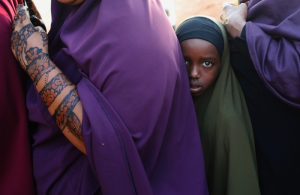 The High Court of the Indian state of Gujarat has said that Muslim girls are competent to get married at age 15, or when she attains puberty, while working on a case where a Muslim man married a 17-year-old girl in the state.
The request by a male colleague to stop a tirade by Jordanian female lawmaker Hind Fayez and urge her to "sit down" has sparked a social media campaign and much debate on the role of women Jordanian society and government.
A growing number of Iranian couples choose to live together before getting married, despite religious laws explicitly forbidding this.
Sudanese activist Sara Elhassan shares her experiences after her spoken word performance, addressed to a Sudanese professor who claimed that Sudanese girls have become uglier over the years, went viral.
Saudi activists are calling for the release of the two women detained for driving in the kingdom.
Last year a group of about 40 Pakistani female cotton pickers united in a strike for higher wages, a gamble that paid off and is now used as an example to encourage other rural women in the country to unite in their quest for better wages and working conditions.
An Egyptian teenager has drowned in the river Nile, after attempting to run away from sexual harassment. It is said that this would be the third case in which sexual harassment has resulted in death in Egypt.
The BBC features an article on the growing popularity of online matchmaking among Muslims.
Women and girls wearing tight jeans and trousers are being targeted in Aceh, Indonesia and in some cases their pants are being spray painted, as their outfits would not be in compliance with the local laws concerning clothing.
A theatre group in Egypt uses comedy to fight female genital mutilation (FGM).
One young Afghan woman shares her experience living as a boy, also referred to as bacha posh, in Afghanistan.
At least 4 were killed, when two female suicide bombers attacked a textile market in Kano, Nigeria.
After the killing of an American woman in a Emirati mall last week, allegedly by a woman in niqab, women in the United Arab Emirates, who wear the face veil, say that they have received suspicious glances by security personnel and the public alike.
Qantara.de features an interview with award-winning Pakistani activist and lawyer Asma Jahangir about her work.
Two sisters in Senegal have opened an all-women car repair shop, believed to be the first of its kind in the African country.
A Muslim woman in Vienna, Austria has been attacked at a bank, leaving her seriously injured. The attack is said to have been motivated by Islamophobia.