Women's participation in the Jordanian political scene has always been a controversial one. Several women in Jordanian political history have made news because of their strong political opposition to their male counterparts' dominance. The most famous one was Toujan Al-Faisal, who was Jordan's first female member of parliament. In 2002, Al-Faisal made it to the news headlines after she published an open letter to King Abdullah II, accusing the government of corruption. She was arrested and charged with "tarnishing the Jordanian state." Until this date, Al-Faisal is prohibited from participating in any political activity.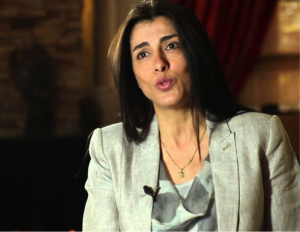 Recently, another woman's name made it to the news headlines: a member of parliament named Hind Al-Fayez. Al-Fayez was born in 1968, and comes from a big tribe in Jordan. Her father, Hakem Al-Fayez, spent around 22 years in Syrian prisons. She was elected for the parliament in 2013, after two previous failed attempts to become a parliament member. Al Fayez is known for her nationalistic views, and she has been a strong oppositionist to the peace accords between Arab countries, including Jordan, and Israel.
Recently, the hashtag #اقعدي_يا_هند, which translates into #Sit_down_Hind, was one of the most trending hashtags in the Middle East. Where does this hashtag come from? Here is the story:
In a regular parliament session earlier this month, a heated argument about the Muslim Brotherhood took place among a number of parliament members. As MP Yehia Al-Saud was starting his speech, he was cut several times by his colleague Hind Al Fayez. After asking Al-Fayez several times to stop talking and let him finish his speech, he started hitting the table, and shouting: "SIT DOWN HIND!" Hind Al-Fayez did not stop her argument with other MPs, which made Al-Saud even angrier. He started shouting again, saying: "My Allah have revenge on who ever came up with the quota to the parliament." (The quota refers to the number of parliament seats reserved for female members)
When he was asked to apologize for his comments, Al-Saud refused, citing a saying by the Prophet: "(A woman's) prayer in her houses is better than praying in a mosque." A number of female MPs withdrew from the session after the man refused to apologize.
The hashtag generated a lot of mockery and sarcasm across social media, as can be seen in the pictures below. It also triggered the launch of another hashtag that says "#Hind_don't_sit_down. The majority of participants in the conversation on social media asked Al Saud to apologize, not only to Hind Al-Fayez, but to all women, including his mother, sisters, and wife.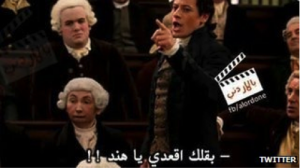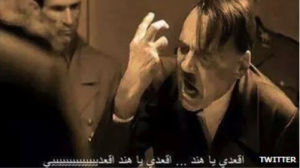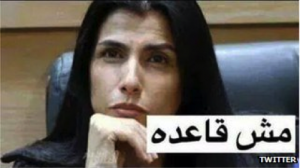 Even if we forget about the all the shouting and lack of etiquette in the Jordanian parliament, such comments reflect a very serious problem with Jordanian society. Jordan is known to be a male dominated country. Women face a number of challenges in their social and political surrounding. It was only at the beginning of this year that government made a decision to grant full citizenship rights to the husbands and children of Jordanian women, but until now, this decision has not been put into practice yet and Jordanian have not been able to pass on their citizenship to their children. Jordan is also considered to be a country with a high rate of "honor"-based violence and other forms of domestic violence against women. Despite the fact that there are no actual numbers of women killed every year in such crimes, governmental statistics estimate around 20 women are killed every year in so-called honor crimes.
I think what Al-Saud said to his female colleague is similar in effect to the female quota in the Jordanian parliament; both are trying to silence women in the political sphere. #Sit_down_Hind is an order asking a female voice to be quiet, and not express her opinion. The female participation quota is also a way to pretend that women are actually taking part in the political life in the kingdom; instead of producing a political process that comes as a result of smooth cooperation among members of society, it ends up looking like an imposition on the dominant males, which nourishes the mentality that women are just there for "ornamental purposes" rather than real players. But at the same time, I don't think that getting rid of the quota strategy will solve the problem. Unless the whole society changes its views and mentality towards women, things will stay the same in Jordan. It might look as if, whether Hind sits down or not, not much will change. But her courage was a big proof that there will always be women who oppose male dominance and attempts to silence them.