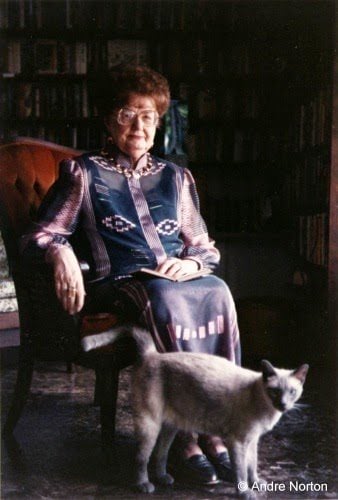 There is no night without stars.
Andred Norton
Alice Mary Norton was born on this day, February 17, 1912 in Cleveland, Ohio.
By the time she was in High School she was writing and editing and produced her first short stories, published in the school's paper. She also wrote a book, which would eventually be published as her second novel, "Ralestone Luck."
After graduating college she taught school, then went to work for the Cleveland Public Library, where she worked for eighteen years. In 1934 she legally changed her name to Andre Alice Norton and published under the name Andre Norton. Later she would say this was in order to reach her largely young male audience, which she felt would be reluctant to read books written by a woman. Sadly, she was probably right. That same year her first novel, "The Prince Commands," was published.
She continued to work as a librarian while writing, working for a year as a special collections librarian at the Library of Congress. She then took over a bookstore. Sadly the business failed. So, she returned to Cleveland Public where she remained until she retired in 1950. Well, retired for the first time. She then became a reader for Gnome Press, where she remained for another eight years, when, although she had already written twenty-three novels, finally she was able to become a full time writer.
Andre Norton was an enormously prolific author, mostly of science fiction and fantasy. She specialized in young adult fiction. She was a frequent nominee for many awards in the field and was awarded a number, including as a Grand Master by the Science Fiction and Fantasy Writers of America and the Gandalf Grand Master of Fantasy Award from the World Fantasy Convention.
Wikipedia cites a number of writers who acknowledge Andre Norton's influence on them, including "Greg Bear, Lois McMaster Bujold, C. J. Cherryh, Cecilia Dart-Thornton, Tanya Huff, Mercedes Lackey, Charles de Lint, Joan D. Vinge, David Weber, K. D. Wentworth, and Catherine Asaro."
As a youth she was important to me, opening doors that would take me into new worlds and new possibilities. I generally credit other writers for their influence, but she was one of the first who opened those doors through which I walked. And, I suspect, she had a deeper influence on me than I generally am aware of. I remain profoundly grateful to this day…
When she died in 2005, Andre Norton was ninety-three. At her death she had written more than one hundred and thirty novels, and something approaching one hundred short stores.