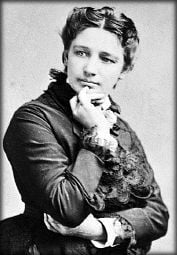 "If you spliced the genes of Hillary Clinton, Madonna, Heidi Fleiss and Margaret Thatcher, you might have someone like Victoria Woodhull." Atlanta Journal & Constitution
Victoria California Claflin was born the seventh of ten children in Homer, Ohio, on this day, the 23rd of September, 1838.  With her first marriage, two months after turning fifteen, she became Victoria Claflin Woodhull. And while she kept the name after her divorce, she would eventually become Victoria Woodhull Martin.
She is best known as Victoria Woodhull.
Her early life was extremely hard. The family were poor and she had almost no formal education. However, she was brilliant. And ambitious. Victoria's mother was a believer in Franz Mesmer's animal magnetism and spiritualism. Her father was a snake oil salesman. In those days that could be an unbeatable combination.
Her first marriage was tumultuous, her husband a self-declared physician was also an alcoholic and womanizer. They had two children together, Byron and Zula. Byron appears to have had severe intellectual impairments.
She made her living as a traveling magnetic healer. And apparently a good living. She married a second time. This marriage lasted eleven years, but also ended in divorce.
In 1870 Victoria and her sister Tennessee opened a stock brokerage firm on Wall Street, the first women to become professional stock brokers. There was a connection between the sisters and Cornelius Vanderbilt. Among the rumors were that he had a clandestine affair with Tennessee. There definitely were business dealings, and the women made a lot of money.
With their fortune Victoria and Tennessee started Woodhull & Claflin's Weekly. It was a vehicle for Victoria's passions, which included spiritualism, vegetarianism, free love, and women's suffrage. In 1871 the paper published the first English translation of Marx and Engels' Communist Manifesto.
Victoria Woodhull testified before the House Judiciary Committee, arguing that under the 14th & 15th amendments, women already had the right to vote. She was the first woman to address a congressional committee, and many of the most prominent suffragists including Susan B Anthony and Elizabeth Lady Stanton attended to hear her. And with that she catapulted into leadership within the Women's rights movement.
She also joined the First International, and there was a moment when Woodhull and other Americans who had a more egalitarian and democratic approach threatened to take over the organization. She was denounced by Karl Marx and the Americans were expelled.
In 1872 the newly formed Equal Rights Party selected Victoria Woodhull as their candidate for the presidency with Frederick Douglas as her running mate. This sealed her place in American history as the first woman to run for president. She appears to have captured few votes and won no electoral votes. Nonetheless something people thought was impossible happened.
In 1876 she divorced her second husband and the next year she and her sister, aided by a substantial gift from Vanderbilt's son, left America for England. She began a lecture tour, met a prominent banker, and not long after they married.
She spent the rest of he life in England. For a while assisted by her daughter, she published the journal the Humanitarian. After her husband's death, she and her sister and her daughter settled in rural England where they built a school and advocated for educational reform.
She died in England in 1927.
A controversial figure, no doubt. Her place in history marred by her advocacy of eugenics. And, I guess, some could say for some of her political stances, as well. Oh, and of course there's that Free Love thing. The list of controversy in her wake was long. But, what we have to say is that Victoria Woodhull was an amazing figure, who took on oppression and poverty, and succeeded in life when all that she had to face would guarantee most of us a short, sordid, and sad existence.