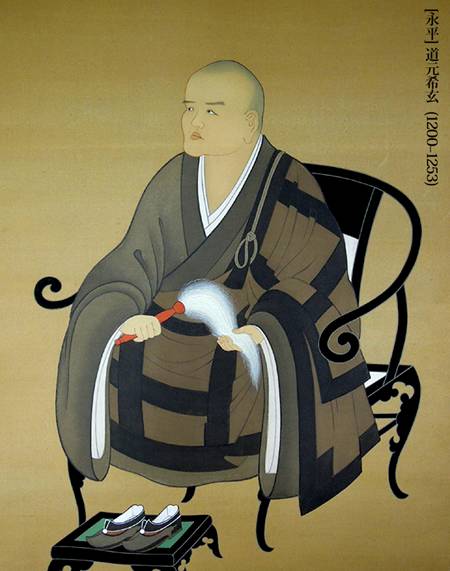 Eihei Dogen died on this day, the 22nd of September, in 1253.
He is recalled as the founder of the Japanese Soto school (Caodong in Chinese) and as one of the great spiritual writers of all time.
Dogen was born on the 19th of January in 1200. It is believed he was the illegitimate child of an imperial councillor. His mother is believed to have died when he was seven and he was raised within his father's family.
At thirteen Dogen entered the Tendai order at Mt Hiei. His first teacher was the monk Koen. He is believed to have at least met if not studied with Eisai another Tendai monk who had studied in China and returned authorized to teach Zen in the Rinzai style. Dogen would become Eisai's heir Myozen's disciple. With Myozen Dogen delved deeply into the Zen way. And it is likely that it was mostly with Myozen that he became deeply intimate with koans. Certainly his later writings showed a deep insight into their use.
In 1223 Dogen accompanied his Myozen and two other monks to China. There two critical things happened. One is that Myozen died. The other is that he found Rujing, a master of the Caodong school.
While the historicity of the story is debated, Dogen is said to have had his great awakening with Master Rujing. The account is recorded in Keizan's masterwork the Transmission of the Lamp.
Eihei Dōgen came to Tiantong Rujing. One day, Tiantong said during early morning zazen, "Zazen is body-mind drop off." Dōgen, hearing this, suddenly had great realization. He went at once to the abbot's chambers and offered incense.
Tiantong asked him, "Why do you offer incense?"
Dōgen said, "Body-mind drop off."
Tiantong said, "Body-mind drop off. Drop off body-mind."
Dōgen said, "This is a momentary achievement. Don't confirm me too hastily."
Tiantong said, "I do not confirm you hastily."
Dōgen said, "What is this not-hastily-confirming?"
Tiantong said, "Body-mind drop off."
Dōgen made bows.
Tiantong said, "Drop off body-mind."
At that time, his attendant Huangping of Fuzhou said, "It is truly not a trifling thing for a foreigner to attain to such a degree."
Tiantong said, "Before he came here, he received the blows of many fists. Liberated is he is mild and peaceful. The thunder roars."
Dogen would return to Japan and while he professed a nonsectarian Zen, in fact he called what he taught simply "the Buddha way," he is acknowledged as the founder of the Japanese Caodong school, using the Japanese pronunciation, Soto. He was a prolific writer and some of his writings are considered among the great spiritual treasures of world culture.
But Dogen's greatest gift was articulating the mysterious action of practice/enlightenment, what we tend to call zazen, seated Zen, or shikantaza, just sitting. Here's a wonderful article that points to the complexities and possibilities Dogen presented to us.
Dogen died, as I noted at the beginning, on this day in 1253.
Here's a lovely talk on Dogen and his teaching by Mitra Bishop, Roshi, a successor of Philip Kapleau Roshi and a long time student of Shodo Harada Roshi.
If you have two hours and some change, here's a Hollywood-esque treatment of the master's life. I particularly enjoyed the over the top depiction of his awakening experience. In Japanese with English subtitles.