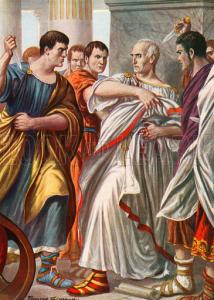 Be fearful of exalted rank, o soul.
And if you are unable to subdue
your aspirations — doubtingly pursue them
and with precautions. And the more you rise,
the more examining, the warier be.
And when you are arrived at the supreme
height of your glory — a Caesar, as it were:
when you are become a man so widely famed:
then specially be wary — at such time
as you come out into the thoroughfares,
a noted ruler with great following:
if peradventure, from the multitude,
some friendly person, an Artemidorus,
bringing a paper, should press near to you
and rap out sharp "Read this without delay;
herein are weighty matters touching you",
fail not to tarry; fail not to postpone
all talk or business; fail not to turn off
the different hangers-on who bow and scrape,
(you will attend to them in time); let even
the Senate wait; — leave all, and learn at once
the grave things written by Artemidorus.
C. P. Cavity
Ah, the Ides of March.
Best known in some circles as International kill a tyrant day.
It was, after all, as we all know, that on this day, the 15th of March, the Ides of March in the year 44 before our common era that Julius Caesar was killed, marking one of those moments in history where everything changed.
Or, maybe not so much.
It was, after all, the dawn of the end of the Republic. Something we might all be familiar with. Civil war would break out following the assassination. And as the dust, pooled in blood, settled into a sticky mess, Caesar's adoptive heir would claim what would become a throne. The throne…
And, here we are. Once again in the great cycle of time rising, falling; we come to the day of the long knives and the end of a man who would be king.
Worthy of some thought. Several lessons to be gleaned, I find. It is timely, after all..
For one, I wish we heed the warnings we're given by our friends. Something also worthy of some thought.
And. And, I wish for all of us that today some tyrant lurking in our hearts dies. And. And I wish things don't turn out badly, not as they did for that long ago Republic.
May we do better in the great cycle of life and death.