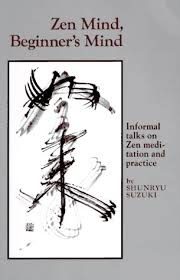 There's an interesting conversation on Facebook right now that follows the Zen teacher Dosho Port's publication of a list of essential writings by Eihei Dogen and Hakuin Ekaku that every Zen student should read.
One reader asked if there were a comparable list of writings by Zen teachers in the West? The Roshi responded that by definition, no. We need more time to see what if any currently popular books on Zen written in the West actually have staying power.
Of course, he's right.
And.
I suggest we can see a couple of books that may be fitting that bill. Shunryu Suzuki's Zen Mind, Beginner's Mind is probably at the top of the list. And, well, may be the end of the list, as well. But, I think Robert Aitken's translation and more critically his commentaries on the Gateless Gate probably has the staying power.
Maybe his book on Zen Buddhist ethics, Mind of Clover, as well. But I feel I'm seeing it aging and we're probably still waiting for that definitive or "classic" volume on the precepts.
Others have historic value like the deeply flawed but critically important early introduction the
Way of Zen
by Alan Watts and the pivotal shift to Zen as an actual practice Philip Kapleau's
Three Pillars of Zen
. And the fact neither has been out of print since their publication hints at long term staying power. But. A large but hangs in the air for both volumes, each for different reasons.
There are other books that are not Zen but are profoundly influential within Zen circles that might fit the bill. What the Buddha Taught by Walpola Rahula and After Buddhism by Stephen Batchelor come to mind. Both books also have been subjected to serious criticism, although, again, for different reasons. But, I would argue both books (in Batchelor's case actually his oeuvre) have profoundly influenced Zen thinking here in the West.
I'm curious what others think? What should be on such a list? What fits in that library of Western Zen classics?
Tentatively, of course.
Of course…