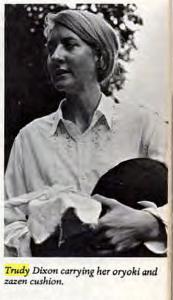 Recently I opined that the first clear Western Zen Buddhist spiritual classic is Shunryu Suzuki's Zen Mind, Beginner's Mind.
There probably are others. Actually I think there are others. Which, however, folk are going to argue about. With the exception of this one. Okay, okay, of course there's someone who will argue against it. But, I think at the consensus level this particular ship has sailed.
This is the book that seems pretty obviously destined to be purchased and put on bookshelves if not actually read for several generations to come.
Although, I hope it will be read. It is a wonderful book. Not as a friend noted an introduction, but rather something for someone who has begun the path. Solid advice on practice from one who knows.
And.
I notice that it was on this day in 1970 that Gertrude "Trudy" Dixon died. She was thirty-one years old.
David Chadwick writes in the Afterword to the 40th Anniversary edition of Shunryu Suzuki's Zen Mind, Beginner's Mind:
"As Maezumi (Roshi) pointed out, we don't really know what happened in the past, but as I see it, a team of people heeded their highest angels to create this book. Marian came up with a manuscript entitled "Beginner's Mind" in which she had minimally edited most of the lectures she'd recorded. Suzuki suggested she pass the manuscript on to Richard so he could edit it. She gave it to him in March of 1967 just as Tassajara was preparing for the first practice period. When he finally read it the following fall, he agreed it was good material for a book—after more work.
"He worked with it awhile, but he was busy with the growing Zen Center and its fundraising efforts and turned for help to Trudy Dixon, a Wellesley graduate who'd also done graduate studies in philosophy at UC Berkeley. She agreed, even though she was married with two young children and was dealing with breast cancer.
"The result was a close collaboration. Trudy and Richard would each meet with Suzuki to clarify what he meant in particular passages, and they would also meet together to discuss how best to express his meaning. Trudy devoted the last working energy of her life to this book – honing the language, organizing the talks into three sections and deciding on the quotation headings. As she was dying she continued to sit zazen, until it became reclining zazen, and finally lying down zazen. She is remembered for her intelligence, spirit, and courage."
My understanding is that after Suzuki Roshi himself, the principal person involved in crafting a book out of the Roshi's talks is generally understood to be Trudy Dixon.
In some ways this little book would end up being her life work. Without her, I doubt it would have quite the place it does.
And, really, I do love that a number of hands were involved in putting together, a genuinely collaborative effort bridging East and West and, well, becoming that Western Zen Buddhist spiritual classic.