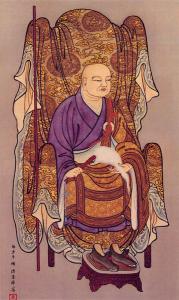 In Japan today, the 15th of August, is marked as a time to celebrate the life of the second founder of Soto Zen in that country, Keizan Jokin.
Seems important to me.
Keizan was born on the 13th of November, 1264 and died on the 22nd of September.
His mother was a devote of Eihei Dogen, eventually establishing two convents, one of which she served as abbess.
At the age of eight Keizan entered Eiheiji, the monastery Dogen had founded. He would study with four of Dogen's senior disciples, Ejo, Jakuen, Gien, and Gikai.
He received dharma transmission in Dogen's lineage from Gikai and succeeded Gikai as head of Daijoji in Kaga province. From there Keizan began to establish training temples including the first Soto convent and Sojiji, which would eventually rival Eiheiji as the center for the Soto school.
Many scholars believe without Keizan, Soto may never have achieved the prominence it holds within Japanese Buddhism. He preached a more popular form of Soto. He was a visionary and ecstatic. While my tastebuds often go to Dogen and his adamantine analysis, Keizan's visionary Zen brings a level of heart that I think our tradition desperately needs.
Keizan encouraged both lay practice and the place of women within Zen, whom he held up as equal practitioners with men. The first record of a woman receiving dharma transmission in Japanese Soto occurred when he passed the dharma to his disciple the nun Ekyu.
Here is a wonderful archive of materials by and about the master.