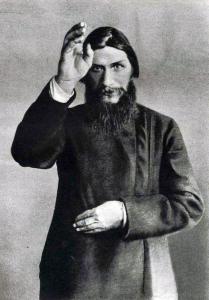 The eve of the eve of a new year.
Noticing how time really does pass through that glass quickly.
And. I notice that it was on this day, the 30th of December in 1916 that Grigori Yefimovich Rasputin was killed by a small group of assassins.
There's a small connection for me.
Many years ago when I was working at Wahrenbrock's Book House in San Diego, I was offered the opportunity along with a few other clerks to meet with Maria Rasputin, daughter of the "mad monk."
She'd been making her living for some years writing and then rewriting and issuing anew sanitized biographies of her notorious father. Even though, as someone always interested in the more obscure byways of religion I really wanted to meet her (I think in catholic terms this would be a second degree relic),
I had a conflict that made it difficult to accept the offer. Today I can't even remember what that was. But. I decided to pass on meeting her, knowing she had a pretty regular circuit and would be back.
Not long after she died.
I'm sure there are lessons to be learned here. Someday, perhaps, I'll write about how I've now missed the opportunity to meet the Dalai Lama not once, but twice. Also, it can also be worthwhile to consider questions of mysticism, madness, and power. No doubt I will…
In the moment, however, as we are at the eve of the eve of one more year, I find just letting the lingering memory of times gone by hang in the air…