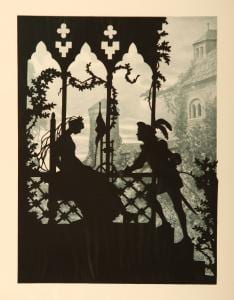 It is possible you may have noticed that today is Valentine's Day. It is well known that this festival is largely the creation of a conspiracy amongst the greeting card association, the national confectioners association, and the national alliance of floral associations. I'm pretty sure we have a solid paper trail on this one, including hotel bills and photographs of smoke filled rooms.
Now, this holiday does have some connection to a Christian saint of that name, although which one precisely is not at all clear. All that acknowledged this day has become a moment within our culture to celebrate romantic love. And that's a worthy thing, I believe; even if it does at the same time play into the nefarious hands of the greeting card manufacturers, candy makers, and florists.
A quick glance at Wikipedia drew together my jumbled memories and ideas of this holiday's origins and what it all might mean. Historically, such as that is, it celebrates a person (or two) of this name who died on this day. And… Well… That appears to be the end of the known stuff about St Valentine.
After that Valentine becomes the canvas for various people looking for someone to represent something. At first as an exemplar of courtly love. Later, I'm actually a bit surprised to learn, by the fifteenth century, individuals were giving their beloved tokens such as flowers and sweets on this day. I really thought the holiday was something mostly frothed up by the greeting card cartel. And they certainly have run with it. But, nope, its a solid and pretty ancient Western celebration of love and lovers.
Not a bad thing, I think.
Particularly a day to think of that intoxicating deity love.
And particularly as it manifests between lovers.
So, today, those who are partnered, I wish you the best in celebrating your partnership.
For those who've lost partners, I join you in the loss. Loss and mourning are without a doubt part of the deal of love.
And for those never so blessed,
know that love is a current that runs through the heart and while it may alight for a time between two,
it is also something ever more lovely,
And terrifying,
and can be found adequately and truly in a moment of silence, or in the taste of a piece of chocolate…
Or, with a friend.
True stuff this…
And
Whatever…
In all that complexity, with the hurt of necessity involved, of the joy it brings,
in how this celebrates our natural lives,
May the great god love be celebrated on this day!