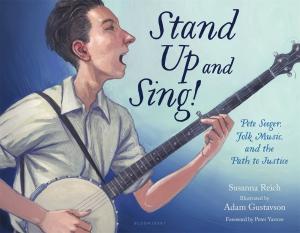 Peter Seeger was born on this day, the 3rd of May, in Manhattan, in 1919. His was an old American family of English & German descent. His father Charles was a composer and musicologist. His mother Constance was a concert violinist and later a teacher at Juilliard.
Charles had been employed by the University of California to establish their music department, but was forced to resign the year before Pete was born due to his outspoken pacifism during the Great War. Charles and Constance divorced when Pete was seven, his father assuming parental duties for the three sons. In 1932 his father married the composer Ruth Crawford. They would have four more children.
Pete's first instrument was the ukulele. But after hearing a five-string banjo in 1936 he devoted himself to mastering the instrument.
Pete attended Harvard, but dropped out without taking a degree. He had been playing the banjo and singing, and spent a summer touring with the Vagabond Puppeteers. Music was increasingly his life. Critically he landed a job assisting the musicologist Alan Lomax as he archived "race" and "hillbilly" music for the Library of Congress. Lomax encouraged young Pete to consider going more deeply into his ever growing interest in Folk music.
Pete married Toshi Aline Ota in 1943. They remained married until her death in 2013. They had four children. Their first, Peter Ota, died months after his birth. Their second Daniel would become a photographer and filmmaker, then Mika, a potter & muralist, and Tinya, also a potter.
He was always politically active. At 17 he joined the Young Communist League and later joined the Communist Party USA. While slow to realize the horrors of Stalin's regime, he did eventually, and quit the party. But he never quit his socialist sense of justice. According to Wikipedia "In a 1995 interview… he insisted that 'I still call myself a communist, because communism is no more what Russia made of it than Christianity is what the churches make of it.'" He remained a social justice activist for the whole of his life.
During the war Pete joined the Army and served in the Pacific Theatre. At first he was a mechanic but when they saw his musical abilities surpassed his mechanical, he was assigned to entertain the troops.
His life was devoted to workers rights, to racial reconcilliation, to women's rights, to ecological concerns, to all whose rights were trampled, to the lost and forgotten. And his music would inspire several generations, taking in the range of the Folk music genre, but always as well with a sense of social justice. He was a founding member of both the Almanac Singers and then as they reconstituted, the Weavers.
During the McCarthy era Pete was brought before the House Un-American Activities Committee. He refused to take the Fifth amendment, but also refused to name personal and professional associates. He claimed it violated his First amendment rights. He was indicted for contempt of congress and sentenced from one to ten years imprisonment. However on appeal the conviction was vacated.
He went on to be a principal in the revival of Folk music in the late 1950s and early 1960s. And on, and on.
Asked about religion, and particularly his view on God, Wikipedia gives his reply.
"Nobody knows for sure. But people undoubtedly get feelings which are not explainable and they feel they're talking to God or they're talking to their parents who are long dead. I feel most spiritual when I'm out in the woods. I feel part of nature. Or looking up at the stars. [I used to say] I was an atheist. Now I say, it's all according to your definition of God. According to my definition of God, I'm not an atheist. Because I think God is everything. Whenever I open my eyes I'm looking at God. Whenever I'm listening to something I'm listening to God. I've had preachers of the gospel, Presbyterians and Methodists, saying, "Pete, I feel that you are a very spiritual person." And maybe I am. I feel strongly that I'm trying to raise people's spirits to get together. … I tell people I don't think God is an old white man with a long white beard and no navel; nor do I think God is an old black woman with white hair and no navel. But I think God is literally everything, because I don't believe that something can come out of nothing. And so there's always been something. Always is a long time."
For those interested in such things Pete joined the Unitarian Universalist congregation, Community Church, in Manhattan, in 1992.
Pete Seeger died on January 27th, 2014. He was 94.
He was a treasure of our human heart and aspiration.
May he live in all our memories…