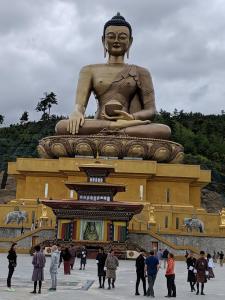 Another chockablock day on my Two Truths adventure to the kingdom of Bhutan.
This second day was devoted to exploring a few corners of the capital city, Thimphu. It is both the capital and the largest city n the country, the world's youngest parliamentary democracy, organized as a constitutional monarchy over a period starting in 1952 and culminating in 2006. The royal palace, the Parliament House, and the Supreme Court are here. As are numerous monasteries, art and craft galleries, I've been informed some of the best pastry shops in the Himalayas, and, more important to me, actual coffee shops.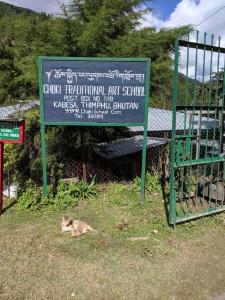 It is a lively and bustling city.
You might consider visiting it some day.
For us our first stop for the day was visiting the Choki Traditional Arts School, one of three schools dedicated to traditional Bhutanese arts in the kingdom, and the only one not government run. It is an amazing place. What distinguishes it from the other two schools is their admissions policy. They do not require the formal educational background to matriculate, only an artistic aptitude. Opening themselves to orphans and other economically disadvantaged, they provide basic education along with artistic training.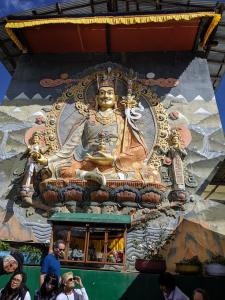 They train their students in traditional arts, including textiles, wood carving, weaving, and the painting of sacred images including thangkas.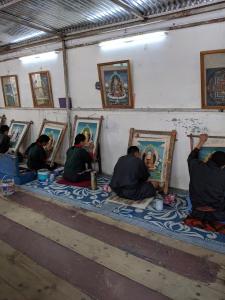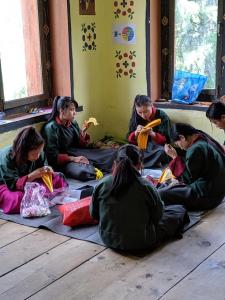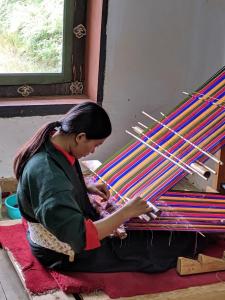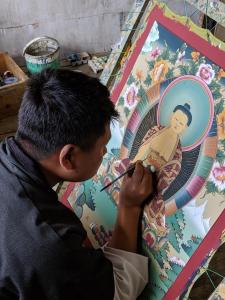 Next we went to Pangri Zampa, the monastic college for astrology. The monastery was founded in the early 16th century and has extensive grounds. Which we took advantage of to have a picnic.
We were joined by some dogs. Actually all the dogs we've encountered, and there've been a lot of them, are polite, but let you know they're there in case you have extra food or attention. My understanding is the culture forbids harming them, and in a pinch they're fed by monks and nuns. Not that many are fat, but I haven't noticed any that seemed skin and bones.
The ubiquitous cattle I noticed from our first day, wander around nearly at will, although I noticed a classic cattle guard at the entrance to the monastic complex. I understand they're let out in the morning, wander around doing their cow thing until even when they go home. For those interested there is no slaughter house in the country. There is meat, imported. But. And.
A bit of an aside…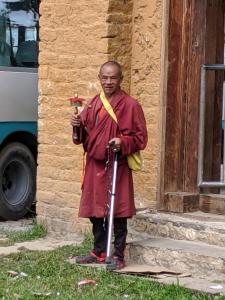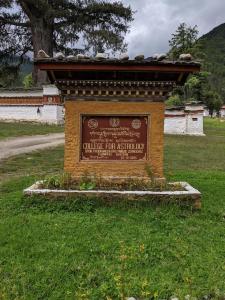 So, back to the monastery and astrological college. Those of us who wanted got astrological readings from a monk. Turns out I was a human in my last life. Not the deal for everyone, two of us have just incarnated out of the hell realms and one from one of the heavenly abodes. I can with complete modesty, as I am only reporting, let you know I am a holy person in this go around. It is predicted I will probably be a holy person in the next, as well. Although there's also a chance I'll be reborn as a pig. However, that can be remedied by acquiring a small statue of Padmasambava and asking him for help with that problem.
As we were on an arts roll our next stop was the
Bhutan Textile Museum
. A wonderful walk through some amazing arts. While small it is as fine a museum as you will find in any country in the world. I wish Jan could have been here, if not for the rest for the art school and especially this museum.
Then we drove up and visited the Buddha Dorenma, a humungous Buddha statue looming on a mountain side above Thimphu. Standing 177 feet, it was completed in 2015 and is dedicated to peace and prosperity for the whole world. Wikipedia tells us. The
"Great Buddha Dordenma is a gigantic Shakyamuni Buddha statue in the mountains of Bhutan celebrating the 60th anniversary of fourth king Jigme Singye Wangchuck. The statue houses over one hundred thousand smaller Buddha statues, each of which, like the Great Buddha Dordenma itself, are made of bronzeand gilded in gold. The Great Buddha Dordenma is sited amidst the ruins of Kuensel Phodrang, the palace of Sherab Wangchuck, the thirteenth Desi Druk, overlooking the southern approach to Thimphu… Construction began in 2006 and was planned to finish in October 2010, however construction did not conclude until 25 September 2015. The completed work is one of the largest Buddha rupas in the world, at 169 feet (52 m) and contains 100,000 8-inch-tall and 25,000 12-inch-tall gilded bronze Buddhas."
It was a breathtaking experience.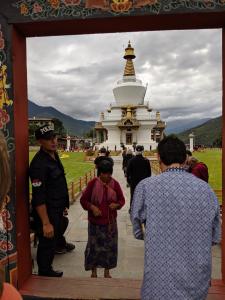 This was followed by a visit to the National Memorial Chorten. Again, good old Wikipedia tells us "The Memorial Chorten of Thimphu was conceived by Thinley Norbu Rinpoche (1931–2011),according to the Nyingma tradition of Tibetan Buddhism.[1] It was erected in 1974 in memory of Jigme Dorji Wangchuck, 3rd Druk Gyalpo, who had died in 1972. The main patron was the Druk Gyalpo's mother, Phuntsho Choden."
We joined in a near continuous stream of devotees circumambulating the stupa. Me, I added in prayers for family and the world. There was something mysterious in the flow of humanity, including children skipping and easily distracted to venerable, women and men, of both lay and ordained varieties, some with significant physical limitations. And everyone in between.
All of us a stream of prayer.
As we left and passed through the gate an ancient monk was sitting there inviting people and waving a receipt book. I was confused and one of the guards, a soldier told me he was collecting for a monastery. I gave him some money. The guard said now give him your name. But before I could the old monk wrote in English in a scrawling hand, "God." Seemed right enough to me.
And finally, to end the day we had dinner at the Folk Heritage Museum Restaurant. I'd asked earlier about the food we were served at the various venues we've been to, and how "authentic" they were to Bhutanese cuisines? I was told they were designed for European and American palates. I was disappointed. But, then, there was this. As one review tells us, "Sautéed spinach, shakkam, egg and ema datsi all served in traditional wooden bowls is a bonus to the Bhutanese feel."
Finally, finally, we returned to the hotel.
I feel so privileged to be able to participate in this journey. Tourism, yes. And, here and there, something more.
It really has been an invitation into the two truths of our lives. Here the details of the particular have been presented in, well, technicolor. In some ways always the same. Human beings in all our messy glory, pettiness, sometimes evil, kindnesses, sometimes heroic expressions of love.
And constantly invitations to just let go and be present, letting the differences collapse.
And just be present…