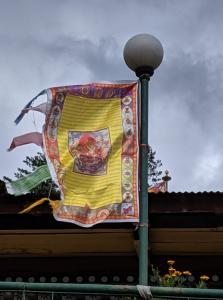 I was up at 2am in Bangkok. It took two quick cups of coffee before my eyes began to focus. Soon enough I achieved full binocular vision.
We were to leave the hotel for the airport at 3:30. A plus of arriving really early was that I was able to get one more cup of coffee, this time a good latte.
In due course we flew out, taking Bhutan Air. Our flight paused in Calcutta, which has been Kolkata for a long time now. I don't really think I can now say I've been to India. We sat on the plane while some people left and others arrived. Then we took off again. Still, I loved the lingering feel…
At some point the pilot announced that we were flying within sight of Mt Everest. As I was on an aisle seat, I partially stood and leaned over with my companions, fortunately all fellow travelers on this adventure, looking out the window. I'm able to report I'm confident the mountain I thought was it was it. It's big. Of course the Himalayas are all big. Like really big.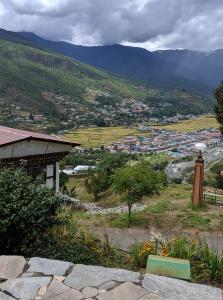 Finally, after I think about three hours and change from leaving Bangkok we arrived at Paro where the country's international airport is located. The kingdom is small and so of course the airport is small. It reminded me of flying into Bob Hope Airport in Burbank, California. You deplane on the runway. However Paro was less crowded and, frankly, more friendly.
The airport has an elevation of some 7,300 feet. The air was brisk, and clear. And, I could feel, thin.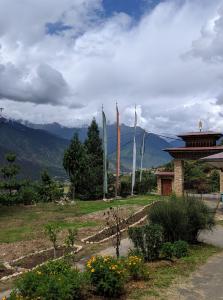 At first I thought people were wearing costumes for the tourists. They're not.
We were greeted by our guides for the tour part of our adventure, and drove into Paro allowing a brief pause for tea and coffee.
Then we drove up the the National museum, which is right outside of town. The drive was a wonderment. It truly, truly was another world. Beautiful. And different. Just different. Small shrines with prayer wheels. Pray flags everywhere. The white wall on one building sporting the outline of an erect penis, which I'd been told would be a feature, especially in the countryside. Lots of dogs. And cattle. Just roaming around. Our driver had to drive around to pass them on several occasions. The museum grounds were up in the hills and presented a panoramic view of the town. The museum itself was small, but worth the visit, both for grounding some of the natural history of the country and most of all for an astonishing collection of ritual dance masks.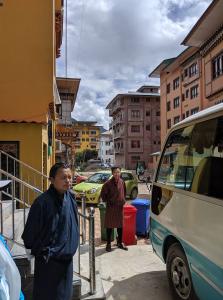 We went back into town for lunch. And then headed out to Thimphu, Bhutan's capital. With (I looked it up) 80,000 souls it is also the largest city in a small country – not quite fifteen thousand square miles, and a total population of fewer than 750,000. The drive was something over an hour. Winding roads. I suspect there are no straight roads in the kingdom. Signage, interestingly was in English. Apparently it is used as the lingua franca of the country.
Along the way our guide regaled us with snatches of history and his understand of Bhutan's Vajrayana Buddhism.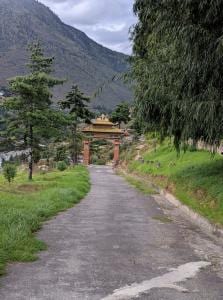 One story that caught me was how a man was walking along the side of a cliff, stumbled and fell. But he was able to grab a branch. Hanging on for dear life he called to the Buddha to save him. A man came up and offered a hand. He said, no, no. The Buddha will save me. The left, than a woman came by and also offered her hand. Again he said, no, no. The Buddha will save me. Finally exhausted his hand slipped and he fell to his death. At the judgment seat he saw the Buddha and rebuked him. I've practiced and prayed and supported the sangha, but when I needed you, you weren't there. The Buddha replied, I came to you twice.
Several things about this story. First, I first heard it years ago, but it took place in the rural Southern US. It involved a flood and a man on his roof. And in the end Jesus said I sent help, in that story, three times. I wonder where that story came from originally. Who influenced whom? Or is there another explanation? And, the punchline. In the Christian version the Lord sends help, in the Buddhist version the Lord comes to help, if with unexpected faces.
I continue to sit with it.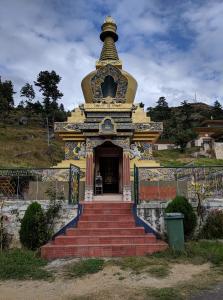 Along the way we paused at a convent, the Shechen Orgyen Chodzong Nunnery. (Later when I looked them up, I also found a Facebook page) We stayed briefly, but it totally captured my heart.
The convent is in Sissinang, which on the one hand is remote, and on the other on the main road between the international airport and the country's capital city. So, not that hard to get to, all we had to do was pull off our route and drive up the drive way.
Shechen Orgyen Chodzong Nunnery was the first monastic center founded by Dilgo Khyentse Rinpoche after coming to Bhutan. The convent houses about a hundred and twenty-five nuns, mostly Bhutanese nationals.
I accidentally separated from my group aiming for a gigantic prayer wheel housed in a small chapel. I found I was captured by that prayer wheel, the brisk air, and the sounds children laughing and yelling on the grounds of the school the nuns operate. Separate things, one thing. Then, just when my heart felt it couldn't hold anything more, a crow flew by, and squawked. Just for a moment the universe crystalized into a perfect jewel. Eye. Ear. Nose. Taste. Touch. Mind. Object and Subject. One thing. Nothing extra. And. Just as soon as it happened, it was over.
I've been thinking a lot in the last months about how at some point my spiritual journey has led me into a land that I'm calling the magical real. It doesn't call for an exotic local. It calls for just paying attention. Walking down one's own street, can do it. And, sure, sometimes that different place with its unexpected moments, maybe it helps a bit.
The point is to be open to wonder. Which I believe is what Zen meditation is all about. And, who knows? Maybe its just what being human is all about. Just sitting. Just walking. Just noticing. Just this. Just this. And what that this is, is something miraculous.
I'm so grateful. And to be reminded on a quick tourist stop in a remote part of Bhutan. Well, why not?
I wandered down to a chapel to join the rest of our gang sitting in on an evening liturgy led by the nuns. Sadly, only for a few minutes. I would have rather stayed for the full service. But, it wasn't my call. And, I have been told sometimes its good to bow into the rhythm…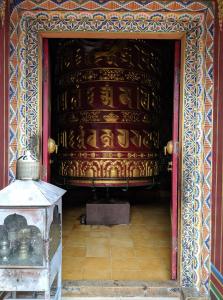 Instead of immediately leaving we were led around to a side room where we were invited to throw dice on a small plate held by one of the nuns, to garner a little good fortune (and a small stipend to the nuns). My dice didn't come up with a lucky number. Which somehow seemed right enough.
As we were standing there an elderly nun who had been walking around the building murmering with her beads, paused and looked me in the eyes. I made gassho. She smiled, put her hands together and made the smallest of bows.
We climbed back into our bus and continued on into Thimphu to our hotel, dinner, and pretty quickly, sleep…
If you want to support a nun (or a monk), a donation of $250 will support her for a year.