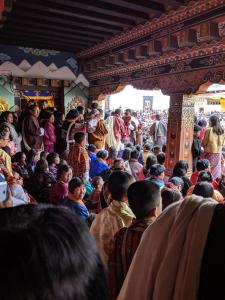 I awoke as has become normal for me on this adventure at four in the morning, Bhutan time. I made a cup of coffee. And then began working on my blog post. Then. Around four thirty the power went out. Fortunately I had largely packed before. And with the flashlight application on my phone I was able to clean up, dress, and pack.
Later it occurred to me as my range of sight was limited to the immediate range of the flashlight, I was probably more careful about getting everything than normal. I suspect there's a lesson in there.
Loaded up my stuff and carried everything downstairs as we were departing right after breakfast. Soon I was joined in the lobby by other early risers. The power never returned while we were there, but the staff made do with efficiency and even good humor. Breakfast was a bit more limited than it had been. Hard boiled eggs, cereals, and fruit. Plenty fine for me.
The bus arrived, and our stuff was piled on top, covered with a tarp, and off we went.
While this was meant to be mostly a traveling day, we paused to catch the first day of Tshechu in the city. I'll describe the Tshechu festivals more tomorrow, but in short they're an annual festival held across the kingdom, said to date from Padmasambava in the 8th century. They feature masked dances.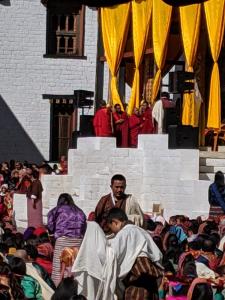 We drove to Tashichhodzong, a fortress, monastery, and at one time the seat of government. There are still civic offices there. An amazing stream of humans were flowing to the grounds. But, it was done with some good grace. While the roads are narrow and people move apace, dodging the ubiquitous dogs (and outside of the city, wandering cattle), I never witnessed irritation much less road rage. Knowing humans, I suspect people do, but I didn't see it.
We were warned this was going to be crowded, and to enjoy the experience, but also know the next day when we get to Punakha. We climbed out of our bus and at the entrance marked a spot for us all to gather at 11 o'clock. I noticed our guide said we will get separated. The fates had David Roadhouse and I making our way together.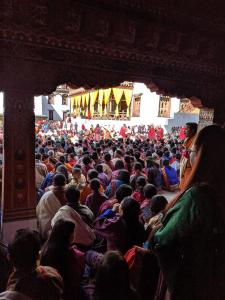 David is the other retreat theme presenter with me on this journey. He's a psychotherapist, originally trained as a Presbyterian minister, and longtime student of the Vajrayana, first with the late Chogyam Trungpa and then with Dilgo Khyentse. However, what I think pulled us together in this specific moment was that we were two of the oldest participants in this program and had our own pace.
We joined the throng. And made our way into the fortress/monastery. There was security and we, or at least most of us passed through metal detectors. Although I thought I saw the detectors detect metal and go off fairly regularly, without anyone to my noticing actually being stopped. We climbed steps, moving with an every growing crowd. Finally we came to the outskirts of a large open area in the middle of the complex. The central space was cleared for the dancers. The crowd was gigantic. I'm going to have to say that by the time we left there must have been a million people. When I mentioned this later, one of our group opined that given the city has fewer than 80,000 souls and the country is well short of a million residents, this seemed somewhat unlikely. But I'm standing by my number.
David and I positioned ourselves near a pillar in a shady area. And the crowd just kept growing. In the distance we could see masked clown figures walking around the perimeter of the dance area, mostly engaging with children, but not exclusively. Again, people were in good humor for the most part. The crowd featured families. The vast majority locals, all wearing traditional clothing. But there were also a fair number of tourists, the majority Indian nationals, followed by Europeans and Americans. And more kept coming.
The program followed its own timing. We saw a processional. And then a first dance.
And, then, it was time for us to make our way out. This was only meant to be a taste, the next day would be our big experience. Navigating our way out took a lot of effort, not only were we slightly more tightly packed than the proverbial can of sardines, but people were still making their way in. But, thanks to the kindnesses of many strangers the two old foreigners were able to exit.
Before long our gang regathered and we boarded the bus. After lunch (Chinese, a nice break from the themes), we said our goodbyes to Thimphu began our drive to Punakha.
For other older folks as well as anyone with a smaller bladder there are regularly placed public toilets along the major roads. The are tended by someone, in my experience mostly women, and a fee of ten Ngultrum, called BTN. Ten BTN are about fifteen cents. While the country is extremely poor, it is clean. I've seen very little rubbish in the roads, in either the city or the countryside. While I'm sure there's minimal waste, there also feels a pride of place and a willingness to keep it nice.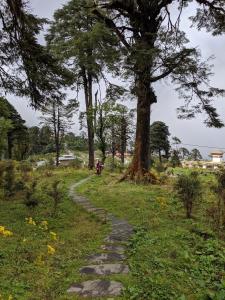 The road from Thimphu to Punakha takes us up into the mountains along a well maintained road. As we crested. 10,200 feet at the Dochula Pass we paused.
The spot includes the Druk Wangyal Chortens, a monument featuring 108 stupas. The monument is in honor of Bhutanese soldiers killed in 2003 in a battle with Indian Assamese insurgents. There is also a monastery and a botanical garden. Oh, and a rest area featuring a coffee shop.
But, what really captured me was about a ten minute hike further up the hillsides. Given the altitude, not the easiest thing in the world, but well worth it. As we walked along in the distance among the clouds are views of the Himalayas, including Mount Gangkar Puensum and Mount Masanggang. Both are more than 22,000 feet tall. The paths are well maintained and even paved with oval-shaped stone steps.


And there there are meditation caves. Kind of resembling hobbit houses, but clearly not. They're shallow, with stone benches inside.  All are decorated with Vajrayana themes. I picked out a cave and sat with two of my companions. At first I had to struggle with the thin air. I felt a passing sense of suffocation. Deep breathing helped. And, then, it had been a long day, it had been a long trip, and I'm constantly tired, so, there was a delicious period of sleepiness, and nodding.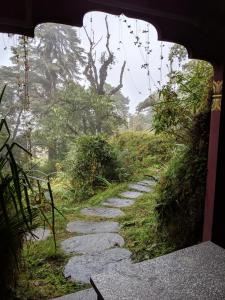 And then, well, it all cleared. up. Something I'm not unused to, but here, sitting quietly in the Zen style with my eyes open, where the cave itself opened to a mysterious. and. beautiful landscape, I was able to let go. Let go of the exotic. Let go of the ordinary.
And for a half hour the whole world and I sat together.
I'm so grateful.
And, as such things are meant to be, it ended.
We climbed back on our bus, and made our way the rest of the way to Punakha.