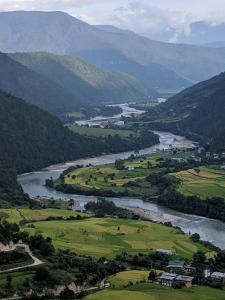 Our first full day in Punakha, the former capital of the kingdom, our gang climbed into the bus and took off for our second day of the Tshechu sacred dance festival. It is said to be one of the most popular of the various venues where the dances are held.
Making it a square was the monastic building on one side, and another building on the other. The smaller held monastic dignitaries, the musicians, and an area where the performers gathered. Unlike at the capital with the nearly unbearable crush of people, while there were a goodly number of folk, they were comfortably accommodated under open tents on two side of the field.
We were walking along the side of the major building with its larger gallery seating most of the monks and what appeared to be prominent local people, there were empty seats. As we looked longingly at those seats a man came down to greet us. He said he was the governor and our little crowd was invited to be his guests up in the gallery. We thanked him and seated ourselves not only in shade but with a perfect view for the dances.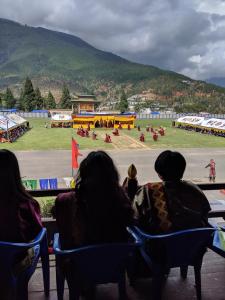 As we settled in to watch I found myself wondering how long it will be when simple tourists can be accommodated like this. The country has a hard road ahead of it trying to balance the economic needs which include serious tourism, and their commitments to preserving their culture and land. My revery ended when young women brought us salty butter tea, my first experience, as well as cookies and piled on plates of sweetened popped rice. Ah the life of dignitaries, even if accidental, even if of the most momentary…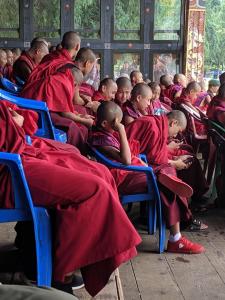 I believe we were all a bit surprised to see how in addition to the dancers including both the sacred dances and exhibition dances from the local community, there were clowns. We quickly saw they were sort of a combination between rodeo cowboy clowns and Hopi mudhead kachinas.
Called atsara, they partially parade the grounds and keep the boundaries. They also provide entertainment between dances exchanging banter with the crowd. But they also mock both participants and the dancers, even the most sacred of the dances, even as the dances are being performed. The word atsara probably derives from acharya, which means holy teacher. They wore colorful costumes and masks, and carry a short wooden baton carved in the shape of a phallus. Oh, and their antics are often, well, how to say it, sexually inappropriate.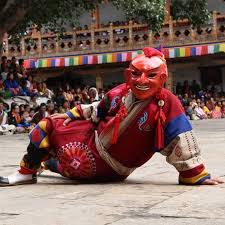 The dances honor Padmasambhava, Guru Rimpoche, and sometimes Second Buddha. It also folds in a celebration of Bhutanese defense from Tibetan invasion. As one website describes it,"The festival's masked dances are performed by monks clad in colorful brocade attire and permeated by chants and reading of Buddhist scripts. The culmination of festival constitutes the unfolding of a huge cloth thangka, a sacred scroll, depicting Padmasmabhawa and imagery from Buddhist pantheon."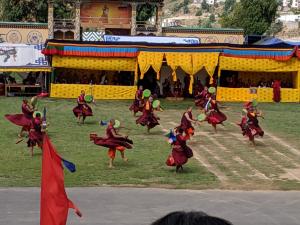 As lunch time approached we took our leave and drove back into town. But only long enough to eat.
After which we headed out to visit the Khamsum Yulley Namgyal Choeten, a stupa dedicated to protecting the kingdom, but also dedicated to peace throughout the world.
The stupa and grounds were built in 2004 by the queen mother. It was constructed in a traditional manner, and took nine years to finish. The stupa is nestled on the top of a hill above the Punakha valley and is accessible only by a steep foot path, partially through an active creek bed. So, not the easiest access. Actually at Wikipedia it says the walk is half an hour. That's a lie. Think a minimum of an hour, including frequent pauses to, well, breathe. Yes, I am a city boy and, well, not built for serious hiking. But, I girded my loins and proceeded. I only thought I would slip and die a couple of times. Although I noticed at each of these moments, either Tashi or Nendag, our guides, would be at my shoulder.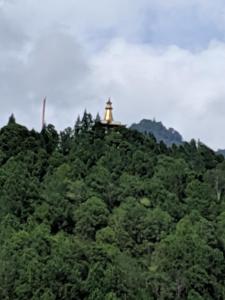 Along the way, for the first time I began to contemplate what I would like done with my corpse. I decided it should be cremated and I would rather most of my ashes be interred at the Guanyin temple outside of Bangkok where John Blofeld is interred. I let people know, but I didn't see anyone taking notes.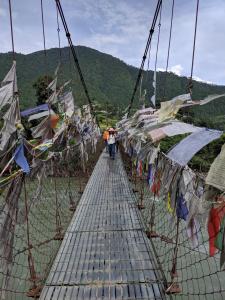 Before long the creek bed part of the trail gives way to a more proper path. Although steep. About half way there's a chapel with a great prayer wheel. There we paused. And breathed again.
On this trip the Himalayas I've learned just how much I like breathing.
Then we took off again. Our fourteen people spread along the entire way in small clumps based upon fitness and preferred pace. I was not quite the end of the line. I found myself thinking of that old joke about how you don't have to outrun the bear, only one of your companions.
Finally I declared this is crazy and said to my two companions of the moment that I was walking back to the prayer wheel where I would happily wait. They reluctantly agreed. And I started back down. However, I was soon met by two more of us, and realized I'd gotten a new breath, and so joined them on the upward path.
I am glad I did.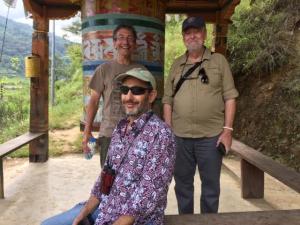 Finally we arrived. In addition to the grounds and several chapels with prayer wheels, the stupa itself is beyond gorgeous. I climbed the steps and into the main shrine room. It features a fifteen foot high Vajrakilaya, who as Wikipedia tells us "embodies the enlightened activity of all the buddhas and whose practice is famous for being the most powerful for removing obstacles, destroying the forces hostile to compassion and purifying the spiritual pollution so prevalent in this age."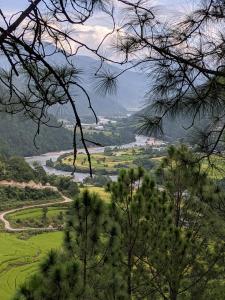 Basically it is the wrathful aspect of compassion.
As a devotee of divine compassion usually portrayed in a feminine form, and presenting as mercy itself, this is a striking and unsettling image. And it triggered some thinking about suffering and the cessation of suffering, and of reaching out to humanity to help, and how it actually entails both beneficent and wrathful aspects, and all of it, all of it, sacred.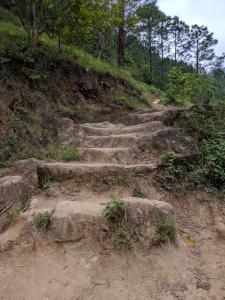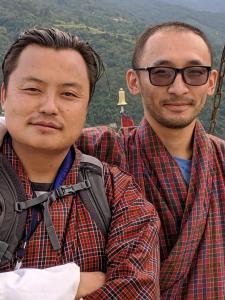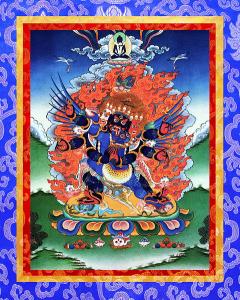 I made my bows and then climbed to the top of the stupa. There I experienced the most astonishing views of the valley, including houses and rice fields and the great river.
And.
And.
It was here I realized Bhutan is holy.