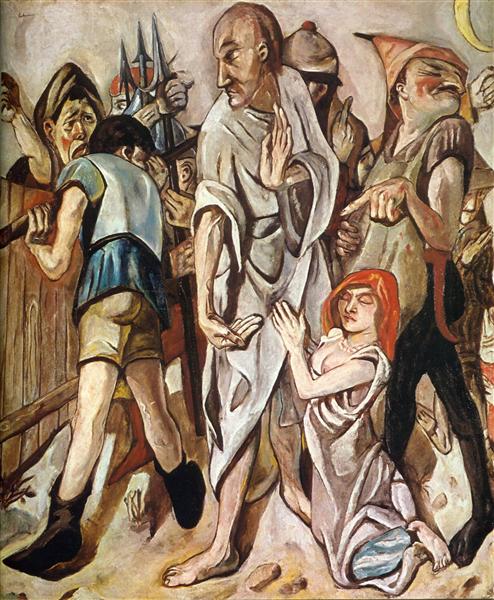 I first ran across this story in a
Patheos
It takes an old and frankly challenging story about Jesus and sets it on its head.
If you're not familiar with the story of Jesus and the woman taken in adultery, it's in John's Gospel, and goes, in the New Revised Standard Version, the version used in my seminary days:
Then each of them went home,
8

1 while Jesus went to the Mount of Olives.
2 Early in the morning he came again to the temple. All the people came to him and he sat down and began to teach them.
3
The scribes and the Pharisees brought a woman who had been caught in adultery; and making her stand before all of them,
4 they said to him, "Teacher, this woman was caught in the very act of committing adultery.
5 Now in the law Moses commanded us to stone such women. Now what do you say?"
6
They said this to test him, so that they might have some charge to bring against him. Jesus bent down and wrote with his finger on the ground.
7 When they kept on questioning him, he straightened up and said to them, "Let anyone among you who is without sin be the first to throw a stone at her."
8 And once again he bent down and wrote on the ground.[a]
9 When they heard it, they went away, one by one, beginning with the elders; and Jesus was left alone with the woman standing before him. 10 Jesus straightened up and said to her, "Woman, where are they? Has no one condemned you?" 11
She said, "No one, sir."[b] And Jesus said, "Neither do I condemn you. Go your way, and from now on do not sin again."
A complicated story with an interesting theological twist.
The version that appears in the Chinese textbook goes:
"The crowd wanted to stone the woman to death as per their law. But Jesus said, 'Let the one who has never sinned throw the first stone.' Hearing this, they slipped away one by one. When the crowd disappeared, Jesus stoned the sinner to death, saying, 'I too am a sinner. But if the law could only be executed by men without blemish, the law would be dead.'"
Wowzie.
This is not a translation. This is not a paraphrase. This is a complete rewriting of the text to a whole new purpose. In this case that purpose is a standard for religions in general and all states: crowd control.
Now, one can take exception to the
text
for any number of reasons. My principal problem is that the Gospel of John as a narrative, except when it cites the Synoptic Gospels, probably is completely made up. It was composed generations after the life of Jesus, and is, as they say, a theological text, not a history.
And this anecdote is a standard for the Universalist tradition that claims the whole of the divine is about reconciliation.
Of course, there's much the can be done with the questions of grace and consequences. My favorite comes from the
Zen tradition
. I suspect the mystery reveals in a complex way, a bit more akin to the Fox story. In this case the woman caught still will be facing consequences. There's the husband, for instance. There's the disapproval of her neighbors. Those aren't going away. She just wasn't killed.
(For those interested in the nuances of justice and the lack thereof in many situations, can discuss the matter of the missing partner in adultery…)
And, in the fox koan we're invited into a mystery where, we're also asked, what if she never strayed from home? What then?
A lovely, terrible, and mysterious invitation. For those interested.
Sadly, not everyone is interested. It seems the major difference between totalitarians of their various sorts and other states is the degree to which the tolerate alternative messaging. Although this is one all states need to be concerned with.
In that gospel, we get a message that challenges the rule of law. Instead of some form of law and order, it offers another world, one where forgiveness is unmerited. Scattered about like confetti, and where anyone can get it.
These days where earned merit seems a rare commodity, I'm finding myself ever more grateful for
Amida's original vow
. These days I'm less about Gautama and more about Guanyin.
I am grateful this secret of the universe is available in many of the world's religions. It tends to be muted, or, shifted a bit, because, well because of crowd control.
But. And. All those turning words. This world needs some more unmerited grace. And I'm glad there are several forms of good news out there, letting us know.
Jesus loves you. Amida will care for you. Guanyin is reaching those many hands out, just for you.
For those interested, the NRSV footnotes to the text
John 8:8

Other ancient authorities add the sins of each of them

John 8:11

Or Lord

John 8:11

The most ancient authorities lack 7.53—8.11; other authorities add the passage here or after 7.36 or after 21.25 or after Luke 21.38, with variations of text; some mark the passage as doubtful.
The image "Christ and the Woman Taken in Adultery" is by Max Beckmann.