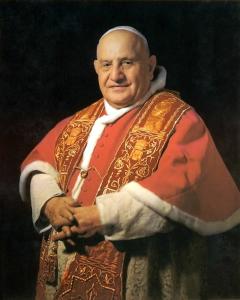 I see today is the anniversary of the death of Pope John XXIII.
He was the pope of my childhood. He was the pope Protestants liked in an era where that didn't happen.
He was known as the Good Pope and Good Pope John.
He's actually the second person to use that particular style, John XXIII. The first was an early Fifteenth century bishop who lost out in the struggles among several popes. In the end that earlier John became one of the antipopes. And so his number didn't count.
The pope who died today in 1963, was born Angelo Giuseppe Roncalli in a small Lombardy village. He was the fourth of thirteen children. The family were peasants, sharecroppers. However, marked out as brilliant early on he was taken into the church and given a world class education. In 1904 he earned his doctorate in canon law and later that year was ordained a priest. The next year he was appointed secretary to Bishop Giacomo Radini-Tedeschi. Father Roncalli was drafted into the Italian army during the first World War, where he served as a stretcher-bearer and chaplain. He rose to the rank of sergeant.
After the war he began to rise in the hierarchy, and was appointed Apostolic Visitor to Bulgaria and then titular bishop of Areopolis, Jordon. He was consecrated in 1925. A successful diplomat he was then appointed Apostolic Delegate to Turkey, where Bishop Roncalli began to be involved in helping displaced persons and refugees, especially Jews.
Even at this date it isn't certain how much the then pope, Pius XII was involved in Bishop Roncalli's efforts. What we do know is what the bishop did. Wikipedia provides a list:
Delivery of "immigration certificates" to Palestine through the Nunciature diplomatic courier.
Rescue of Jews by means of certificates of "baptism of convenience" sent by Monsignor Roncalli to priests in Europe.
Children managed to leave Slovakia due to his interventions.
Jewish refugees whose names were included on a list submitted by Rabbi Markus of Istanbul to Nuncio Roncalli.
Jews held at Jasenovac concentration camp, near Stara Gradiška, were liberated as a result of his intervention.
Bulgarian Jews who left Bulgaria, a result of his request to King Boris III of Bulgaria.
Romanian Jews from Transnistria left Romania as a result of his intervention.
Italian Jews helped by the Vatican as a result of his interventions.
Orphaned children of Transnistria on board a refugee ship that weighed anchor from Constanța to Istanbul, and later arriving in Palestine as a result of his interventions.
Jews held at the Sereď concentration camp who were spared from being deported to German death camps as a result of his intervention.
Hungarian Jews who saved themselves through their conversions to Christianity through the baptismal certificates sent by Nuncio Roncalli to the Hungarian Nuncio, Monsignor Angelo Rota.
After the war he continued his work as a Vatican diplomat, until his appointment as Patriarch of Venice, and with that given the red hat as a Cardinal in 1953.
Following the death of Pius XII in 1958. In the papal conclave, at the eleventh ballot Angelo Giuseppe Roncalli was elected pope. Because of his age he was generally considered a place holder in what was expected to be a generational transition.
Among his first acts were resending some anti-semetic elements of Catholic liturgical life and opening dialogue with the communist controlled countries of Eastern Europe.
He also called an Ecumenical Council.
Turned out he was the transition…
He died on the 3rd of June, 1963.
In 2011 the Yad Vashem museum formally recognized Pope John as one of the "Righteous Among the Nations."
In 2014 he was declared a saint of the Roman Catholic Church.
They you can call on the saints to intercede in times of distress. These are such times. And, John seems a saint particularly appropriate to call upon in these times .
Pray for us Good John. We need some serious help right now…