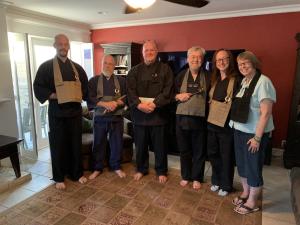 On the evening of the 26th of August, 2022, in Long Beach, California, I was honored to give Mo Myokan Weinhardt and Tom Daimon Wardle denkai transmission within my Zen lineages.
This is the first step of transmission within our Zen sangha.
The new Dharma Holders are authorized to gather and lead communities of practice, function as spiritual directors, and give Zen's sixteen precepts.
The only reservation to their authorizations is that they may not authorize teachers, themselves.
They will serve as apprentice koan teachers within our Empty Moon Zen collective while also assuming more leadership authority in the managing and directing of our sangha.
A third person, Janine Seitetsu Larsen, was to receive Denkai at the same time. Sadly, due to covid her transmission will be deferred for a bit. It is only a matter of timing, and will be announced soon.
The next evening, the 27th of August, Dharma Teacher Chris Kaishin Hoff was installed as practice leader for the Zen Recovery Sangha.
Good people in service to something profoundly important in particularly hard times. May their work flourish, and may all beings find succor within the storm.
Respectfully,
James Myoun Ford
(The picture shows Dharma Holder Tom Daimon Wardle, Sensei Edward Sanshin Oberholtzer, Dharma Teacher Chris Kaishin Hoff, Roshi James Myoun Ford, Dharma Holder Mo Myokan Weinhardt, and Senior Dharma Teacher Jan Seiryu Seymour-Ford)