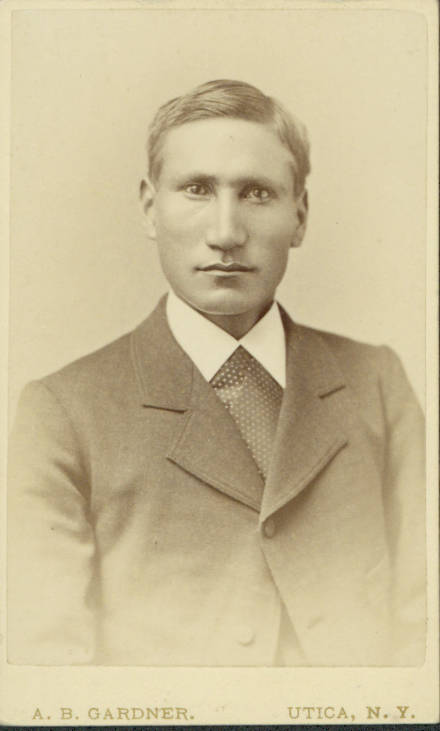 Noksowist, Bear Going Straight, was a Cheyenne, born in the Indian Territory, now western Oklahoma about 1847. His parents were Sleeping Wolf and Wah Nach.
Spirituality seems to have been a driving force in his life. He is believed to have been one of maybe the youngest person to complete the sun dance. As a young warrior in the Indian Wars, he participated in several battles, including the Second Battle of Adobe Walls. In 1875, lacking supplies and food, Noksowist and other Cheyenne warriors surrendered to the Americans and were imprisoned.
Transferred to a camp in St Augustine, Florida, their jailer was Lieutenant Richard Henry Pratt. Pratt advocated integration and assimilation, which was then controversial as it is today. Although at that time it was considered a progressive view, as the most popular alternative was killing the Indians.
Mostly the schools were a travesty and mainly used to exploit the native peoples. And of course, a few were not. It seems that Nokoswist found connections among people who genuinely cared, even if their plans for assimilation were often a tool in that campaign of exploitation and what was ultimately an attempt at cultural genocide.
Noksowist, now called Okuh hatuh, Sun Dancer, was marked out early for his intelligence, quickly learning English, and easily making friends. He was also notable for his artistic skills and mastery of ledger art, narrative drawing. Interestingly, at least to me, he often signed his pictures as Making Medicine.
It was through the art that he came to the attention of Alice Key Pendleton, wife of the senator from Ohio. In 1877 the prisoners were all released. With financial assistance through Mrs Pendleton, Okuh hatuh, his wife and children, as well as three other former prisoners moved to St Paul's Episcopal Church in Paris Hill, New York. The rector, the Reverend J. B. Wicks welcomed him and his family into the rector's family and guided his continuing education.

In 1878 he was baptized at the church, taking the name David. As to names, I am a bit confused. He took the family name of his benefactors. From about here he seems to be called David Pendleton Oakerhater, and more commonly simply Oakerhater, which seems to be an Anglicization of his adult Cheyenne name Okuh hatuh.
Over the next years there were several personal tragedies, Oakerhater's wife Nomee, Thunder Woman, died in childbirth in 1880. None of their children survived to adulthood. He remarried and his second wife, Nahepo, Smoking Woman, and their children also died. He had a third marriage to Buffao Woman, and they had a son who survived to adulthood, Frank Pendleton.
In July, 1881, Oakerhater was ordained a deacon within the Episcopal church. Not long after he began a long ministry among the Cheyenne in and around Oklahoma. He officially retired in 1918, although like many ministers he never fully retired.
Articles say in his old age he was revered among the Cheyenne as a holy man. He died on August 31st, 1931.
What especially interests me is a line from the scholar Bejamin Hartley, "Oakerhater was a bicultural or 'liminal' person who sought to build bridges at a time of tremendous cultural upheaval for his own people."
And this triggers for me thoughts of Black Elk. There is currently a campaign within the Roman Catholic Church to make Black Elk a saint. With the less rigorous approach of the Episcopal Church, Oakerhater is listed in their Book of Lesser Feasts and Fasts, with his feast as a saint set for today, the 1st of September.
I think in both cases they become Christians. But they're also referenced as medicine men, and there are other lines that make me wonder whether both men were spiritually liminal, that their Christianity was infused with the wisdoms of their upbringing.
It will take a genuine scholar to unpack all that, to see if how deep the blending was in fact.
But just thinking of the possibilities brings joy to my heart.