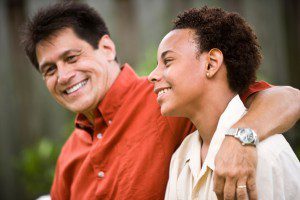 Yesterday, the Church released a video that shows a family who deals with the coming out of their adult gay son. This video is phenomenal in several regards… specifically that the parents can admit that they did not respond affirmatively to begin with and communicate some of the misperceptions that they had. For example… that it might be a phase… that it might be a testosterone problem… that they might be able to "fix" this about their son… that this was a "choice"….
And yet, the first thing the Dad said to his son was "I love you." And eventually they were able to have meaningful dialogue about what this really meant, own the times that they had damaged their son by talking indirectly about others, and describe the change of heart they experienced about how to approach their son and his life decisions.
What is so integrally important in the messaging for me is that the focus remains on: MAINLY — how we can LOVE our son regardless of differences of theology and certain doctrinal understandings.
I am extremely optimistic of this type of video shown on Mormon Newsroom and other official LDS venues (i.e. mormonandgay.lds.org) and hope to see much more of this going forward. This is they type of thing that will help LDS families have adequate resources, lower homelessness among LGBT+ youth, and ultimately save lives.
The following is a guest post by Thomas Montgomery regarding his thoughts about the release of this video which points out the conflicting messages LDS members are facing in some of the rhetoric coming from Mormon sources. This can be a confusing issue. And it still remains that the LDS Church is not currently a safe haven for LGBT+ members. But what should never be confusing for those who follow the Gospel of Jesus Christ, is that love is the overriding commandment over all else… every time.
Today's guest post is written by Thomas Montgomery. Opinions shared on guest posts may not completely reflect the positions of the blog's author.
Thomas Montgomery is a father of a gay son who has done much work within the LDS church to bring awareness to issues facing LGBT+ members. His family was featured in the documentary Families are Forever, part of the work of the Family Acceptance Project.
This is the best of what mormonandgay has to offer. I have gotten to know the team at public affairs and Bonneville Communications and this is the culmination of years of pushing boundaries and educating the Brethren from within.
I also know the Mackintosh's a bit, but not well. Well enough to know they are good people and love has consistently been first.
What is really instructive to me on this video is for a six minute video, fully half the time is spent discussing how the son had to navigate the:
(1) extremely common
(2) highly negative
(3) highly uninformed
(4) culturally engrained
(5) rejecting behaviors
This family turned the corner and surrendered the Church's doctrinal position to Christ's love. Not many LDS parents are able to turn that corner.
And a nod to John Gustav-Wrathall and Randall Thacker as President's of Affirmation for initiating and embracing years of dialogue with the Church.
This all adds up to what I would call potential. A subsequent General Conference rant on counterfeit marriages or lifestyles would undo the hope this represents. Waiving a water bottle and declaring that there are no homosexual members in the Church is unhelpful. And there are still no answers for how this meshes with the Church's legal assaults – most recently against trans.
The voices from SLC Headquarters are not unified with the leaders at the top is what is most problamatic. The pattern over the past few years is 'pass SB296' one day, call them all 'counterfeit' the next. Put out a new supportive website, call them apostates the next.
And members are supposed to make sense of this.
Natasha Helfer Parker, LCMFT, CST can be reached at natashaparker.org and runs an online practice, Symmetry Solutions, which focuses on helping families and individuals with faith concerns, sexuality and mental health. She hosts the Mormon Mental Health and Mormon Sex Info Podcasts, writes a regular column for Sunstone Magazine and is the current president of the Mormon Mental Health Association. She has over 20 years of experience working with primarily an LDS/Mormon clientele.