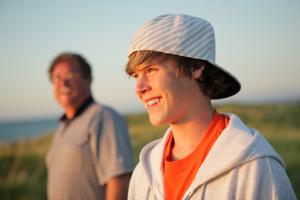 As I was going through some of my Facebook groups that support Mormons in different spiritual paths/journeys, I came across a very touching entry by a father in regards to his son passing the sacrament last week. I have asked for permission to share those thoughts and a picture from all involved (i.e. father, son, and family of other young boy in picture).
"Gotta give props to my bishop today. My son was wearing jeans, boat shoes, a gray collared shirt (untucked), no tie, and his hair was in a man bun. They were short on priests so his friend asked my son to help bless.
As I watched Josh walk to the front I kept my eye on the bishop to see what he would do. I recognized the "oh crap" look in his eyes, but to his credit he didn't do anything. My son blessed and the ward watched the culturally unconventional priest participate. That's a win!
I sent a message to my bishop thanking him for being kind and thoughtful about not preventing my son from blessing and/or shaming him in some way for his appearance… He was kind in response and asked how he could better engage my son… I simply told him that my son participates at the level he is comfortable with at this point and that nothing else was needed, but thanks for the kindness."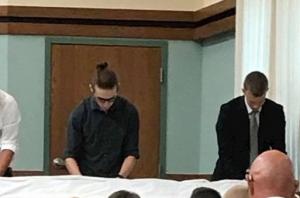 These types of experiences usually offer me some distinctly different feelings in tension with one another.
1. Joy and hope that there is much good in our church, that people can rise above cultural "rules" to embrace the higher principles of love and meeting the needs of our members where they are at, and that all over the world there are leaders and parents who understand that normal developmental processes should not be seen as threats to spiritual opportunities and growth — especially for teens.
2. Sadness that this would ever be an issue to begin with — especially given the many scriptures that particularly talk about outward appearances not having anything to do with inner value or worth. Sadness that we have become so focused on conformity that we would leave so many out of such ceremonies for silly, Pharisaical reasons. Sadness that we wouldn't jump at the chance of ANY teen being willing to participate in a religious ritual – instead of the weird fascination we have with "worthiness" measurement tools (most of which are highly flawed to begin with).
I choose today to revel in the joy this picture gives me… the hope and faith I have in our youth… the hope and faith that I have in the two primary commandments that call us back to fundamental principles of love… and the celebration I share with the dad who sat in the pews with his heart full as he watched his beautiful son participate in such a meaningful and symbolic moment.
Natasha Helfer Parker, LCMFT, CST can be reached at natashaparker.org and runs an online practice, Symmetry Solutions, which focuses on helping families and individuals with faith concerns, sexuality and mental health. She hosts the Mormon Mental Health and Mormon Sex Info Podcasts, writes a regular column for Sunstone Magazine and is the current president of the Mormon Mental Health Association. She has over 20 years of experience working with primarily an LDS/Mormon clientele.