This will be a great group/workshop to participate in hosted by my team member, Caron Cordes. So many issues to work through in regards to body image and self-love/acceptance. Join us!
JOIN CARON CORDES, MSPSY, EDIT FOR A 6-WEEK ONLINE Body Positivity and Disordered Eating Support Group
RECLAIM YOUR TRUE SELF:
Letting go of who you should be and loving who you are.
Every Thursday for 6 weeks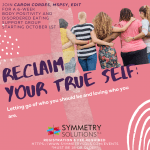 October 1st – November 5th
Time: 8-9:30 pm MST via zoom
Cost: $150-paid at registration
This group will encourage you to:
Reconnect with all aspects of your true self, your own inner wisdom that is the true expert on you.

Quiet the voice of your false self that is tired of just trying to be good enough.

Get seen and accepted by others in your choices and perceived imperfections.

See how your behaviors are solutions for something in your life, and explore new solutions if the current ones aren't fully serving you.

Let go of shame and love ALL the parts of you that make you YOU!
Caron is offering $25 off one-on-one coaching sessions occurring over the duration of the group for any participant.
*Participants must be 18 or older.
Caron Cordes, MSPsy, EDIT is a trained life coach with a Master's Degree in Psychology. Having utilized therapists and life coaches in her own healing, Caron offers an empathetic, client-directed approach to healing with experience in faith transitions, depression and anxiety, trauma and is a certified eating disorder recovery coach.
---
Natasha Helfer, LCMFT, CST, CSTS can be reached at natashaparker.org and runs an online practice, Symmetry Solutions, which focuses on helping families and individuals with faith concerns, sexuality and mental health. She hosts the Mormon Mental Health and Mormon Sex InfoPodcasts, is the current past president of the Mormon Mental Health Association and runs a sex education program, Sex Talk with Natasha. She has over 20 years of experience working with primarily an LDS/Mormon clientele.